HBO Sets Cast For Financial Crisis Film Too Big To Fail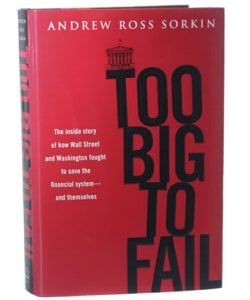 It's not often that economists and government employees get the chance to imagine who would play them in their life story, but Hollywood has come a-knocking for Ben Bernanke, Timothy Geithner, Henry Paulson and many of the other people behind the enormous 2008 financial crisis. THR reports that HBO has set the cast for their adaptation of Too Big to Fail, which Curtis Hanson will direct based on Andrew Ross Sorkin's bestseller documenting the 2008 Wall Street crash.
Leading the troupe will be William Hurt as former Treasury Secretary Henry Paulson, with Paul Giamatti as sitting Federal Reserve Chairman Ben Bernanke, Ed Asner as Warren Buffett, Billy Crudup as current Treasury Secretary Timothy Geithner, and Topher Grace as Jim Wilkinson, a PR rep for the Bush White House. THR has a full list of the giant cast. The story will inevitably be sprawling and eggheady, but it's exactly the kind of thing that's perfect for HBO, a network unafraid to hit viewers with a lot of facts and make it interesting while it happens. But you know what's the fun part before we see the actual movie? Comparing real people to their Hollywood counterparts! Compare and contrast with us below.
William Hurt as Henry Paulson
Paul Giamatti as Ben Bernanke
Ed Asner as Warren Buffett
Billy Crudup as Timothy Geithner
Topher Grace as Jim Wilkinson
Your Daily Blend of Entertainment News
Staff Writer at CinemaBlend