Happy Endings: Season 2 [DVD Review]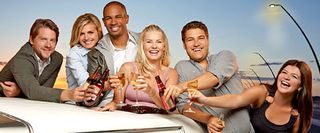 Ever since Friends became required viewing for a nation obsessed with the titular buddies' intermingling romances, hair cuts and catchy theme song, television has been flooded with plenty of variants on the buddy-centered sitcom, for better or worse. And with a cringe-inducingly lame title, Happy Endings was not a show that initially seemed like it would break the mold. However, because of creator David Caspe's subversive sense of humor (that flaunts then flips this subgenre's clichés), along with a deeply funny cast that shares a kinetic chemistry, Happy Endings proves to be one of the most satisfying sitcoms on television.
Set in Chicago, the show focuses on six friends and their misadventures while searching for their own happy endings. As you might expect, much of the group is made up of lovers past and present, but thankfully some concrete relationships keep things from getting too far into that creepy realm of cross-pollination that's frustratingly frequent in this TV subgenre. First off there's the Kerkovich sisters, Alex and Jane, played respectively by Elisha Cuthbert and Eliza Coupe, who share a deep sisterly devotion and classical good looks but little else. Alex is a happy-go-lucky but bubbleheaded boutique owner who is often the last to get the rapid-fire zingers that are freely bandied about among her circle of friends, while Jane is a whip-smart control freak whose quick on the uptake, but lacks her sister's easy affability.
The series began—literally, its first scene—with Alex going all Runaway Bride on her longtime boyfriend Dave (Zachary Knighton) and since then the V-neck tee-addicted food truck proprietor has been dating a steady string of busty brunettes, but occasionally backsliding with his plucky ex. Jane's husband Brad (Damon Wayans Jr.) is a charming businessman who looks fabulous in his tailored suits, and can magically drop trou with the snap of his fingers. Brad's involved in a serious bromance with Max (Adam Pally), the group's schlubby, chubby and unemployed smart-ass who is shockingly confident about his appeal. And that leaves Penny (Casey Wilson) childhood friend to the Kerkoviches and Max's college girlfriend, she's a successful single woman who is clueless and often frantic when it comes to romantic relationships.
Key to Happy Endings scintillating comedy is how each of these stereotypes (ditzy blonde, control freak, ladies man, token black friend, slacker, and husband hunter) are subverted, giving each a funny and fresh new angle. Most notably, Max defies TV expectations by being both a slob and gay, adding a new layer to the landscape of LGBT characters on television. By extension Brad, who has a passion for fashion and loves honeysuckle-scented candles and romantic comedies, broadens the representation of both straight men and black men that TV typically offers. Plus, whether Brad and Jane are engaged in an argument of the value of a night crawler-based cologne that attracts birds or are being chucked out of another restaurant for hooking up in its bathroom, they carefully dodge the TV trope of being boring just because they're married. Then, Alex's doe-eyed naivety enables the show to get away with some scandalous humor, while Dave and Penny's lives of promiscuity allow for comedy that plays on the foibles of single-life from both gender's perspectives.
The first season of the show was fun, with a couple of memorable episodes. But in Season Two Happy Endings really comes into its own, abandoning the focus on how the group dynamic is impacted by Alex and Dave's breakup in favor of a more evenly shared storytelling. This opens up the premise to a great range of comedic possibilities, from movie-themed scavenger hunts to the tricky terrain of work spouses and even how well-intentioned white lies can so easily spin out of control. The fast and furious dialogue is peppered with callback gags, shrewd pop culture references and the occasional dud joke—that is roundly scorned by the others—making for a conversational style that is familiar and inviting. You feel like one of the gang, whether they are poking a Pooh bear-like Max out of hibernation, supporting Dave in his latest food truck innovation by downing turpentine-tainted cocktails or playing mediator between a warring Brad and Jane with the help of some flowy pants designed by Waiting to Exhale star Angela Bassett.
Basically, the writing of the series is incredible, reveling in a wacky sensibility that embraces both snarky barbs and slapstick, yet avoids the treacle trap even when its character's reach their arc epiphany. But what makes this show a must-see that must be revisited again and again is the cast. There's really not a weak link among them. Cuthbert is adorable; Knighton is a solid straight man to Pally's mugging and madcap Max. Wayans proves a master comedian in his own right, nailing not only the quick-witted back and forth with the fiercely funny Coupe, but also the physical comedy that punctuates the two's often sexually charged interactions. But MVP goes to Casey Wilson, who makes Penny panicked, manic and yet lovable through all her tantrums and aggressive use of abbreviations—or "abrevs" as she calls them. In fact, it's a deleted scene of Penny imagining her spinsterhood that makes for the best element of the DVD extras, which include a spattering of deleted scenes and outtakes. While these supplementary materials add little background, the real reason to buy a TV series on DVD is its rewatch value, and with writing that's rich and layered, jokes that are plentiful and punchy and a cast of colorful characters performed by some fearless comedic performers, Happy Endings fits the bill. As Penny would put it, "It's ah-mahzing."
Length: 450 min.
Distributor: ABC
Release Date: October 23, 2012
Starring: Zachary Knighton, Elisha Cuthbert, Damon Wayans Jr., Eliza Coupe, Casey Wilson, Adam Pally
Directed by:Anthony Russo
Written by: David Caspe
Your Daily Blend of Entertainment News
Staff writer at CinemaBlend.