Helix Season 2 Review: No Sophomore Slump For This Syfy Drama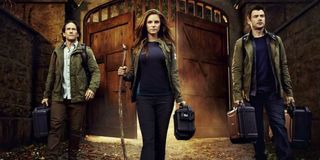 A sophomore slump was almost inevitable for Season 2 of Cameron Porsandeh's Syfy drama, Helix. The show's inaugural season was exciting and new, and managed to find a real horror and sci-fi sweet spot, reaching fans of science fiction, zombie stories, and viral outbreak stories. However, after watching the Season 2 premiere, that couldn't be farther from the truth. How in the world could executive producer Ronald Moore expect to match the excitement and surprise fans had watching the show's first season? Well, of course, you take the doctors out of the arctic lab and send them to a creepy as hell island to investigate the outbreak of a mysterious and deadly disease.
The show kicks off with Dr. Peter Farragut (Neil Napier) and his team of doctors, Dr. Sarah Jordan and Dr. Kyle Sommer (Matt Long), investigating a disease--that looks a great deal like NARVIK--that has infected and killed every individual aboard a boat. After an investigation on the boat and getting a good look at that nastiness that is this season's bug--seriously, it is absolutely disgusting--the team stumbles upon one survivor, Leila (Cristina Rosato). Leila is somehow immune to the virus, and hints at problems on a mysterious island. Meanwhile, Dr. Julia Walker (Kyra Zagorsky) is off on a boat of her own, on a search for a cure to an unnamed ailment. It appears that she, too, is travelling towards the island.
While the island itself looks like your general, run-of-the-mill deserted island, things get sinister pretty quickly. The inhabitants of the island are more than mildly terrifying, and we soon learn that the island's main residents are members of a cult, run by a yet-to-be-named character played by Steven Weber.
The island inhabitants have secluded themselves from the outside world on the island, in a place where you can't help but expect bodies, ghosts, and other kinds of horrors in a place that looks like that, am I right? Just check out the new setting compared to last year, including where the cult lives:
While the drastically different location might take a moment for Helix fans to get used to, the Season 2 premiere is such a fast-paced, intriguing story that I have no doubt it will keep viewers glued to their screens, and leave them with plenty of questions. For instance, I am completely mystified by the island cult, and I cannot wait to learn more about them. Did they actually create this virus, or are they just immune to it? If they are immune, why are they? The general rule both on television and in real life is that cults are a bad thing, but I'm really going to be interested to see where the evil stems from.
I kind of love that Helix is a show that makes it easy to jump into, even if you haven't seen every episode. The premiere of Season 2 certainly does call back to various plot points from Season 1, but for the most part it almost felt like a completely new story. The new location and vastly different stakes have really given the show a breath of fresh air, and have created an environment where Helix could, in theory, go on for many more seasons. As long as they keep the show fresh like the writers have done so far, I'd be all for that.
Rating:
Helix's second season premieres on Syfy on January 16 at 10 p.m. EST. You can get more info on the show and the cast here. Though it isn't necessary to enjoy Season 2, if you haven't yet seen or you want a refresher on Season 1 of Helix, it is currently streaming on Netflix.
Photo Credit@Syfy
Your Daily Blend of Entertainment News