Here's How The Family Guy And Simpsons Crossover Will Look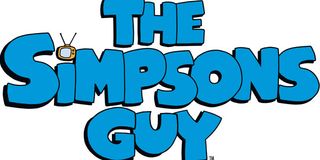 We are getting close to crunch time for The Simpsons/Family Guy one-hour crossover episode, which is rolling with the title The Simpsons Guy (the animators have even created a new logo for the episode, above). The crossover will premiere on Fox on Sunday, September 28 and to celebrate the big premiere, this week Fox released a slew of photos related to the event episode. If you are totally fine with some vague spoilers, take a look at the images, below. If not, it's time to leave this article.
The crossover episode will see the Griffin family happing upon Springfield, which Lois first says "seems nice." Soon, they meet the Simpson family, and Homer Simpson and Peter Griffin happen to bond over donuts, shown below.
However, later on, things don't seem particularly swell between the two gentlemen. Homer takes Peter to a bar, where they differ over the quality of a beer. Peter introduces Homer to Pawtucket beer, but Homer believes it is a cheap knockoff of Duff beer, leading to a pretty big fight. There are plenty of scratches and bruises, but at least they don't seem to be knocking each other's teeth out.
I'm not sure what happens afterwards, but things gets so crazed that the two men's beer guts are hanging out and it looks like they've been picked up by some alien spaceship of sorts. Or maybe it's one of those strobed-out, gravity defying rides they sometimes have at carnivals? (I'm thinking it's Kang and Kodos, though.)
Meanwhile, the kids are all spending time together. Bart and Stewie try skateboarding and Meg and Lisa don't seem excited about bonding, though the latter is trying. However, my favorite photo is the one of Brian and Santa's Lil' Helper hanging out near the water cooler dog bowl.
A lot of this footage is stuff we got to see in the brief The Simpsons trailer that's already leaked online, but the photos are much crisper and are a great reminder that we'll get The Simpsons Guy in just a couple of weeks. If you want to check out what Meg and Lisa are up to, or see a few more photos from the upcoming episode, click over to the next page. You can also catch our full fall premiere schedule.
Reality TV fan with a pinch of Disney fairy dust thrown in. Theme park junkie. If you've created a rom-com I've probably watched it.
Your Daily Blend of Entertainment News
Thank you for signing up to CinemaBlend. You will receive a verification email shortly.
There was a problem. Please refresh the page and try again.