Heroes' Greg Grunberg Joins ABC's Drama Pilot Doubt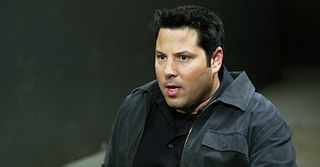 Heroes alum Greg Grunberg has joined the cast of ABC's drama pilot Doubt. He'll play the older brother of central character in the project, written by House's David Shore.
Doubt focuses on Vince, an ex-cop turned low-rent lawyer who puts his street smarts to good use to manipulate the system and help his clients, all while trying to win back the love of his ex-wife. THR says Grunberg will take on the role of Vince's big brother, Mark. Mark is described as sweet and well-meaning, a man who suffers from a disability as a result of an accident as a kid, but who is high-functioning. He works as a receptionist in Vince's law firm and is a firm believer in his brother as a hero.
Although he is best known for Heroes, Grunberg also recently did an arc on The Client List and popped up in an episode of CBS' Vegas. In addition to this new role, Grunberg is also on board the backdoor pilot for the reboot of The Saint, which is already in production but has not been officially picked up to series by the network. It will be shopped around for a home once it's completed. If both go forward, we'll have to see what Grunberg's contracts dictate.
Doubt is being executive produced as well as written by David Shore, and will be directed by The West Wing's Thomas Schlamme. Also on board for the pilot is Sons of Anarchy star Rockmond Dunbar. The lead role of Vince hasn't been cast yet, but we'll let you know when we get the word.
Your Daily Blend of Entertainment News
Thank you for signing up to CinemaBlend. You will receive a verification email shortly.
There was a problem. Please refresh the page and try again.