Homeland Preview: Season 1, Episode 9 - Crossfire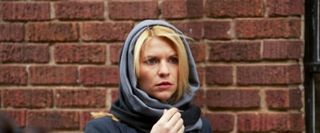 Showtime's Homeland enters the "Crossfire" next week after the events of "Achilles Heel" have once again yanked the prayer rug out from underneath us. If you happen to read our recaps of the acclaimed first season series then you should know that we were more than a little disappointed in last night's episode. For the first time, the twist ending didn't feel earned and yet, there's still so much to love about the show that hopefully "Crossfire" is able to pull everything back together.
While the ending of "Achilles Heel" once again left Brody's alliances up in the air, the preview clips from next week avoid the Marine Sniper altogether and instead focus on the CIA having to clean up the FBI's mess. And by mess, we mean those two innocent Muslims that they killed when chasing terror suspect Tom Walker into a neighborhood Mosque. The first clip finds Carrie trying first to calm the Imam of the religious center before trying to extract any information he might have about the fugitive, that is, if he has any to extract.
The second clip follows the first very closely, with Carrie trying to make good on the seemingly tentative deal she has struck with the Imam, namely justice for information. Carrie presents Estes with an audio recording that proves culpability of the FBI for their part (read: screw up) in the raid and the ensuing dead bodies. Carrie's more than willing to burn any and all bridges with the FBI in order to get the information from the new source. Obviously, Estes does not approve, which means Carrie will probably go ahead and do it anyway. Here are the clips...
As always, those in the right region can also watch the preview for "Crossfire." It's a faster cut, more intense preview of the episode that actually shows us what we're dying to see - Brody. The preview shows the Marine Sergeant back in Abu Nazir's hands and trying to be (re)persuaded to continue on with the terrorist plot. Yes. He's not completely innocent (pretty sure of that now) but that doesn't mean he hasn't turned back. Take a look.
Homeland airs on Showtime, Sundays at 10 p.m. ET/PT. It stars Claire Danes, Damian Lewis, Mandy Patinkin and Morena Baccarin.
Official synopsis via Showtime's website,
Your Daily Blend of Entertainment News
Thank you for signing up to CinemaBlend. You will receive a verification email shortly.
There was a problem. Please refresh the page and try again.