House Finale Won't Include An Appearance By Lisa Edelstein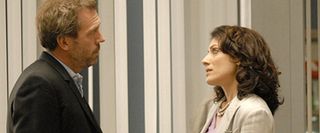 The final hopes of House fans for a reunion between House and Cuddy are officially at an end. As the series heads for its conclusion plenty of loose ends will be tied up -- after all, that's why the show requested an early decision -- but the romance between House and his former boss isn't one of them.
TV Line confirmed today that Lisa Edelstein will not be returning for one last appearance on the show as it says goodbye this season. She left the show rather suddenly at the end of season seven, with an exit that left many House fans unsatisfied. Although House's creator, David Shore, has previously suggested that bringing her back for the finale might be a possibility, it's now clear it won't happen.
Fox announced that the eighth season would be the last earlier this month, a decision that was precipitated by both showrunners and stars hoping to go out on top and to have the needed time to end the series properly. I think it's safe to say that for many fans the ending can't be done properly without a final look at the relationship between House and Cuddy. Their relationship was always a major part of the show's plot, whether as an undercurrent or front and center.
No one is saying why she won't be back, or even if she was asked to return, and reps for both sides aren't commenting. What we do know about the May 21st finale of the series is that an hour-long retrospective of the series' eight seasons will air just before the last episode. So fans will at least get one last look back at the years during which the House and Cuddy relationship played out on the screen.
Your Daily Blend of Entertainment News
Your Daily Blend of Entertainment News
Thank you for signing up to CinemaBlend. You will receive a verification email shortly.
There was a problem. Please refresh the page and try again.