Fox Cancels House: Princeton Plainsboro's Doors Are Closing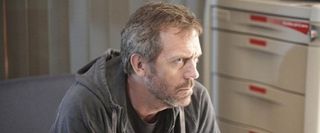 It's official, and it's no surprise: word came down today that we're watching the final season of House. It's been rumored for some time, and Fox has given show creator David Shore his final request, which was an early decision that will allow him to tie up all of the loose ends and bring the show to a proper conclusion.
House has had good years and bad years, but overall has been a strong series and a major draw for Fox and one of the best bets in the network's lineup. After eight years of watching Dr. House try to figure out how to be a human being and the people around him struggle to balance their moral values against his utter lack thereof, the doors of Princeton Plainsboro are closing. The news of the series' cancellation broke on Deadline with word from Fox entertainment president Kevin Reilly that execs made the call "with much regret, and a lump in our throats."
Creator David Shore, executive producer Katie Jacobs and star Hugh Laurie were all in favor of the decision to bring the show to an end. This, along with the end of Laurie's contract after this season, made the decision a little easier for Fox I'm sure. House survived the loss of a few key cast members over the years, but it seems that Lisa Edelstein's exit at the end of last season may have been a loss the series couldn't overcome. The network had put House on hiatus through the end of March to extend the run of Alcatraz, a subtle clue that things were playing out behind the scenes.
Although the series has not always lived up to my expectations, House will remain one of my all time favorite medical dramas, and Dr. House himself a character unmatched elsewhere on television. I'll be sad to see him go.
With the decision made, Fox will now turn its attention to making calls on the future of some other shows, such as Terra Nova as well as trying to figure out what might replace the flagship medical drama. Dr. House has one more job to do before it's lights out though; Fox will use the series to launch the new Keifer Sutherland series Touch. The cancellation news may well bring viewers off the fence to watch Princeton Plainsboro's swan song and bolster Touch in the process.
And the final question? How will House go out? Knowing Gregory House, it won't be quiet.
Your Daily Blend of Entertainment News
Thank you for signing up to CinemaBlend. You will receive a verification email shortly.
There was a problem. Please refresh the page and try again.