How Adam Lambert Lost American Idol For Himself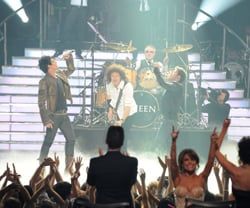 I can finally breathe a sigh of relief that American Idol is over. Not because I hate the show, but because it gets tiresome after a while watching these people battle it out for a title that doesn't always matter. Do you think Jennifer Hudson would want to exchange her Oscar for one of the nifty new AI trophies? The malaise I've felt the last few weeks is probably the same the rest of Idol's insanely vast audience has dealt with. But bolstered by Kris Allen's rise to the forefront of the season by simply performing good songs well just a little better than he had before, the finale for Idol turned out about as perfect as we could hope.
Ever since Adam Lambert performed a subdued and melancholy version of "Mad World I thought he had the game on lock down. Here was a guy that had the talent of not only an Idol contestant, but of a seasoned veteran performer. No one in the history of the show was more poised to take the crown. No one in this season could touch Adam vocally or performance wise. Then came the next week, and the next…and the next. What we found was that Adam was a consistent threat. He always did really well; always wowed the judges and audience, and he always looked like the guaranteed win.
And then supposedly the audience slipped, not voting for Adam because they thought he was safe. That's the theory that floated around, and was even hinted at on the show. But the truth is probably a bit simpler than that. The truth is that while good, Adam Lambert never got any better. He never gave the audience a reason to care for him. Girls crying because you are so super duper awesome is no indication of a winner (see Clay Aiken for a prime example).
The squealing long notes got tired after the fifth week. Kris on the other hand I didn't even bother to pay attention to in the early rounds. He was OK. I thought he deserved to be on the stage, something I couldn't say for a few other people like Scott and Megan. Kris was what I like to call Idol filler: the contestants that add some fun and entertainment to the show in the droning middle rounds, but who ultimately peeks at about the final four mark.
The final four came and all of sudden Kris began poking his head up a bit, looking around, and showing some diversity. As the final weeks rolled along it was Kris Allen who grew as a performer more than anyone. Danny Gokey may have been a bit too complacent in his self assurance of an Adam vs Danny finale, because even he stayed on a plateau along with Adam. And so Kris started to win over the audience with his charming smile, clean cut good looks and growing performance personality.
Is Adam Lambert the better singer? I think differences in style are important, but it's safe to say that he is. But American Idol isn't just about finding a singer. Simon keeps saying "this is a singing competition," and I think he has that all wrong. This is an entertainer competition. Kris Allen gave people a reason to stand behind him and pull off an upset that wasn't really an upset at all. It was simply inevitable.
Staff Writer at CinemaBlend.
Your Daily Blend of Entertainment News
Thank you for signing up to CinemaBlend. You will receive a verification email shortly.
There was a problem. Please refresh the page and try again.