How An HBO Series Reopened This Famous Murder Case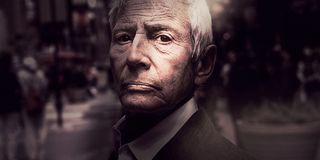 Serving up a typical helping of depressing footage of gritty, gory acts, there's no doubt that the array of HBO's true crime documentaries have been known to expose viewers to a dose of uncensored reality that's just not available anywhere else. However, it seems that the premium channel's current documentary series, The Jinx: The Life and Deaths of Robert Durst, could end up providing critical evidence to convict the famed accused murderer who has long alluded the law, as one investigation has now been reopened.
According to The New York Times, the Los Angeles district attorney has reopened the murder investigation of the December 2000 execution-style murder of Susan Berman, a friend of the accused killer and wealthy real estate heir Robert Durst. A newly-discovered letter from 1999 found by Berman's stepson from Durst to Berman would yield a rather groundbreaking discovery. It would seem that the handwriting on the note from 1999 matches an anonymous letter sent to the Beverly Hills police department notifying them of a "cadaver" upon Berman's death. Coincidentally, both notes also happen to sport the same misspelling of the word, "Beverly" as "Beverley."
The revelation came about in the fifth episode of the documentary series, which aired last night and is quickly making waves among those familiar with the case. The new evidence would seemingly identify Durst as the author of the anonymous note, indicating that he knew about Berman's death and that her body was located in her home. (Which either makes him the killer or a talented psychic.) Now, it seems that of the multiple murders across the country for which Durst stood accused, the murder of Berman may have provided authorities with a critical piece for the prosecutorial efforts to veritably link the nomadic ne'er-do-well to at least one of the grisly crimes to which he has long been connected.
Durst first gained public notoriety in 1982 after the disappearance of his first wife, Kathleen, in New York. While the loopholes of legality let things go Durst's way in the trial, it's always been a sore spot for the NYPD, and there are still investigators working on that cold case to this very day. 18 years later, things started to heat up in 2000 with the aforementioned murder of Susan Berman, for which Durst was a suspect, but was never convicted. However, as coincidence would have it, Durst would find himself at the center of another murder controversy just 10 months later in Galveston, Texas, when his neighbor, Morris Black was found murdered, dismembered, and dumped in pieces into trash bags in Galveston Bay.
After the arraignment, Durst would jump his bail, failing to appear before a court, only to be later found in Bethlehem, PA after he was arrested for stealing what was hopefully the best chicken salad sandwich ever made on this planet, for his sake. Durst had $500 in his pocket and in his car was $38,000 cash, two guns and a bag of marijuana. (Which may explain the whole chicken salad sandwich incident.) However, a jury somehow subsequently managed to buy a self-defense narrative in the case of the Black murder.
Overall, it paints the picture of a demented, horrifically hubris-infused human being. The documentary filmmakers behind The Jinx - director, Andrew Jarecki and producer, Marc Smerling - have actually been fixated on the Durst cases for quite a while, which they even manifested in the 2010 film, All Good Things, in which Ryan Gosling played a fictionalized Durst-like character whose controlling violent temperament leads to tragedies that thinly parallel the unfortunate series of real-life events. However, with the 6-part documentary from HBO, currently best known for fantasies Game of Thrones, comedies like Veep and Silicon Valley, the channel has seemingly provided a more potent, perspicacious method of exposing miscarriages of justice.
The Jinx: The Life and Deaths of Robert Durst will air the final chapter of the 6-part series on March 15.
Your Daily Blend of Entertainment News
Your Daily Blend of Entertainment News
Thank you for signing up to CinemaBlend. You will receive a verification email shortly.
There was a problem. Please refresh the page and try again.