How Arrow's Flashbacks Will Finally Affect The Present Day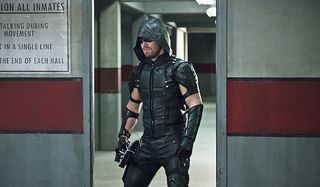 Warning: some spoilers for next week's Arrow episode are ahead!
Just like its previous three seasons, Arrow Season 4 has been following Oliver Queen's adventures in both the present day and his time away from home pre-Season 1. However, both storylines have felt separate and haven't shared anything major in common other than their focus on magic. John Constantine did pop up in both time periods in "Haunted," but his appearance was more of a parallel than both stories directly tying to each other. Now thanks to photos for next week's episode, titled "Eleven-Fifty-Nine," we finally know how these flashbacks will tie into what's going on in the present-day, and it's all thanks to a certain magical idol.
In the "Broken Hearts" flashbacks last week, lead antagonist Baron Reiter discovered a mysterious idol resting in Lian Yu's underground caverns. Reiter plans to use the idol's power to make himself invincible (or as he put it, "a god"), and while Oliver and Taiana managed to steal the idol and hide it in "Beacon of Hope," we can see in the photo above that Reiter will find it again. While it remains to be seen how this idol plays into the remaining flashbacks this season, we know where it will end up in the present day: in Damien Darhk's hands.
Despite being imprisoned after the events of "Taken," Damien has proved himself resourceful behind bars, even without H.I.V.E.'s help. He managed to sneak in a ring that probably has some magic in it, he blackmailed fellow inmate Michael Amar, a.k.a. Murmur, into helping him and this other photo shows him escaping prison. However, if you look in the corner, that same idol from the flashbacks is resting on the table. Knowing Damien and his obsession with dark magic, he knows what that thing can do, but it's unclear why he's walking away from it. Whatever is going on here, that thing is now in play for what's happening in the present-day Star City drama.
This isn't the first time an object has tied together the past and present storylines. Near the end of Arrow Season 3, Ra's al Ghul planned to kill everyone in then-Starling City with the Alpha/Omega virus, the same bioweapon that General Shrieve unleashed in Hong Kong five years earlier. Of course, when it comes to the Arrow flashbacks and main story connecting the most, that honor belongs to Season 2, which followed Slade Wilson's fall to the dark side in the past and his mission of revenge against Oliver in the present.
After killing one of his own men, Baron Reiter absorbed his life force thanks to the glowing idol, and he grew powerful enough to survive being shot several times. That power eventually wore off, but if Reiter manages to kill all the prisoners above ground, he'll be unstoppable. While past Oliver deals with that, Damien Dark has enlisted Merlyn's help, who in turn has gotten in touch with Andy Diggle, who until we now believed had Team Arrow's best interests at heart. Whether Merlyn sneaks that idol to Damien or he procures it some other way, it will likely serve his magic replacement after his ancient statue was destroyed by Vixen in "Taken."
New episodes of Arrow air Wednesdays at 8 p.m. EST on The CW.
Your Daily Blend of Entertainment News
Connoisseur of Marvel, DC, Star Wars, John Wick, MonsterVerse and Doctor Who lore. He's aware he looks like Harry Potter and Clark Kent.