How The Game Of Thrones Actor Who Plays Bran Feels About What Happened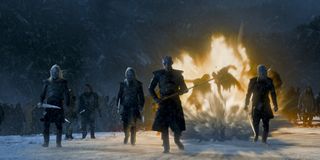 Spoilers from last night's episode of Game of Thrones are all over this article.
Game of Thrones is a fantasy drama that is not interested in giving a hero's ending to the good guys. It's not interested in punishing its villains particularly, either. In fact, the story structure is so totally out of the ordinary that fans are often left guessing until decisions are actually made by the characters week in and week out. This week, a normally well-intentioned character made a huge mistake on HBO's fantasy drama. While Bran was busy training with the Three-Eyed Raven, he faced a problem when the White Walkers came upon the cave he had been staying in. He ended up having to warg into Hodor while still in his vision and inadvertently caused the younger version of Hodor to have seizures and incessantly repeat "hold the door… hodor."
So, how does an actor deal when his character makes such a colossal mistake? He tries to be as light about it as possible on social media, of course. Here's what Isaac Hempstead-Wright had to say about the most recent episode of Game of Thrones.
Yeah, that's pretty much what most of us were thinking.
Last night's Game of Thrones episode "The Door" was one of the most emotional episodes we've gotten of the HBO drama. I'd venture to even say it's one of the most emotive episodes of TV that has aired this season. It was also an important episode in terms of information we learned. Not only did Bran's visions finally enable us to understand why his world has White Walkers, we also learned that Bran will be taking over for the Three-Eyed Raven, who perished in the fight against the White Walkers, along with direwolf Summer, Leaf and poor Hodor. In addition, learning that Meera was asking Hodor to "hold the door" while he was connected to the past and the present caused him a lifetime of brain damage was also devastating. It was even more difficult because director Jack Bender lingered on the scene. Episode 5 was meant to be one with emotional impact, and many of us shed a tear or five as the episode was ending.
The focus may have been on Hodor's sacrifice to save Bran and Meera, but in all honesty, Bran made a lot of mistakes during the episode. He shouldn't have tapped in to his trainer while his trainer wasn't aware, inadvertently allowing the White Walkers to learn his location. He also probably shouldn't have warged into Hodor while in the middle of a vision, as it had ramifications outside of his control. As the Three-Eyed Raven noted just before he passed away, Bran really isn't ready to take over the seer position. Hodor's sacrifice will likely weigh heavy on him in the weeks to come. But at least the actor who plays him isn't so into the role that he's letting it get to him.
Game of Thrones airs Sunday nights at 9 p.m. ET. You can find out more about the upcoming episodes here.
Photo courtesy of HBO.
Amazing Race & Top Chef superfan with a pinch of Disney fairy dust thrown in. Theme park junkie. If you've created a rom-com I've probably watched it.
Your Daily Blend of Entertainment News
Thank you for signing up to CinemaBlend. You will receive a verification email shortly.
There was a problem. Please refresh the page and try again.