Where The White Walkers Actually Come From On Game Of Thrones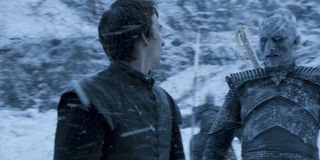 There are major spoilers about Game of Thrones Season 6, Episode 5 "The Door." If you haven't caught the episode yet and don't want to be spoiled on specifics, please check out one of our other lovely articles.
For the past six seasons, the Starks have played a major part in the Game of Thrones narrative. However, some of the Starks have gotten way more screen time than others. In fact, poor Bran was even cut out of HBO's fantasy drama during Season 5. While he's had a little more to do over the past few episodes, this week finally put Bran into the limelight. This chiefly happened because Bran finally used his past-hopping capabilities to learn a hard truth and find out exactly where the White Walkers came from.
The answer is incredibly intricate and intriguing. Early in the episode, Bran is training with the Three-Eyed Raven, and has yet another vision. He finds himself near a tree with a face carved into it and comes upon a group of the Children of the Forest. They approach a man who is gagged and tied up to the tree. A large piece of what looks like dragonglass is forced into his body and his eyes turn blue.
Bran is obviously startled by this information and is accusatory to Leaf when he wakes up in the cave. She says that as men became more prominent, their sacred trees were being cut down and they felt as if they needed to protect themselves. She's unapologetic about making the first White Walker, but this first vision doesn't explain exactly how the world went from one White Walker to many who are willing to take down both humans and Children of the Forest alike.
Later, we see Bran wake up in the cave. Both Hodor and the Three-Eyed Raven seem to be sleeping and Bran taps into the tree in the silence that ensues. His next vision takes him to a snowy plane where a slew of White Walkers are waiting. Unlike the humans in Bran's many visions, the Night King seems to be aware of Bran's presence and touches him, marking him. The Three-Eyed Raven says that Bran needs to leave and the time has come for Bran to take on his role.
The rest is a rough episode, filled with Meera sensing the White Walkers are coming and finding many of them and too few Children of the Forest left to combat them. While the Three-Eyed Raven, Bran's direwolf, Leaf and Hodor succumb, Bran makes it out with his life and his abilities. The whole sequence of events is really sad, but it also provides a ton of information for both the surviving characters and the audience. We now know where the White Walkers originated, and we know who was ultimately responsible.
New episodes of Game of Thrones air on Sunday nights at 9 p.m. ET on HBO. To find out what else is coming up on Game of Thrones, check out what we know about the rest of Season 6.
Reality TV fan with a pinch of Disney fairy dust thrown in. Theme park junkie. If you've created a rom-com I've probably watched it.
Your Daily Blend of Entertainment News
Thank you for signing up to CinemaBlend. You will receive a verification email shortly.
There was a problem. Please refresh the page and try again.