How I Met Your Mother Comic-Con Panel Recap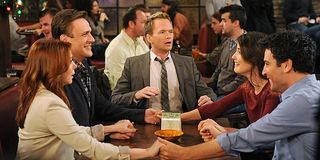 How I Met Your Mother is heading into its last season, and today at Comic-Con, it makes its grand debut at the convention center, as the cast and writers convene in the Hilton's Indigo Ballroom to discuss what's in store for the final season, and I'm here to live-blog all the details for you. We're also promised an exclusive look at Season 9 of the CBS comedy series. Set to appear on the panel are Josh Radnor, Jason Segel, Cobie Smulders, Neil Patrick Harris and Alyson Hannigan. Executive producers Carter Bays, Craig Thomas and Pamela Fryman will also be there.
Here are the official panel details:
The Hilton's wifi situation is not good, so I couldn't do a live blog for this one, but I kept a running play-by-play of everything that happened.
12:00 p.m. PST - Panel begins with a video. Focuses on how Ted discovered his favorite felafel place. Kids cut him off and tell him off "I know all the lyrics to 'Let's go to the Mall' but I don't know who the f---ing president is!" the daughter complains. They've grown up on that couch listening "I hope the story ends with you not meeting Mom, because at this point, I wish I was never born," the son complains. So Dad agrees to wrap it up. September 23, 2013!
12:05 - The cast joints he rage and the crowd goes nuts. It's worth noting that Indigo is packed and has been full since the doors opened a few hours ago. People have been waiting for HIMYM's first ever Comic-Con panel for a while now! The writers thank everyone who waited in line. There's a baby crying and Neil Patrick Harris asks for someone to stop it from crying. Craig Thomas says the baby crying is how they feel with the series wrapping up.
12:08 - Carter Bays says the structure of the season has been mapped out, which is set during Robin and Barney's wedding. Wayne Brady will be back as well as other guest stars. More than ever before. James is getting a divorce. Neil gets fired for giving up that spoiler. Neil responds to that with "Finally." Neil says it's nice that they're getting that ninth season to close out the story and he gets to marry Robin. Jason asks how pissed off people would be if we never met the mother.
12:11 - Carter says the shorter list is the list of characters who aren't coming back. If there's someone we loved over the course of the series, there's a good chance they're coming back. Neil Patrick Harris wants them to bring back Britney Spears. Cobie Smulders says she hopes they'll get Lucy Hale (who played her sister) back. She also wants to meet Robin's mom. Neil goes all Barney with "I'm hoping the same thing," and then adds… "…her sister." Moderator reminds us that there are some slaps left. Yes! Craig says there's going to be an episode in the season that takes place "during the course of one slap." He also says something about a musical number. Jason says the slapping is old-style slapstick comedy, no pun intended.
12:14 - Carter says "Slapsgiving 3: Slappointment in Slapmorrow." Neil says he doesn't like the slapping. Neil says he doesn't like Jason's hands. They're mitts. They match his penis. "They're not fun. Either of them." There is a lot of laughing during this panel. Next topic, Robin Sparkles! Cobie talking about the creation of Robin Sparkles. She says they were obsessed with Tiffany. They were watching a lot of Tiffany videos. Carter and Craig like to infuse music whenever they can. She felt honored and it was a fun thing for her to do to get to go to a recording studio. She points out some of the crew standing near the panel. Cobie says she hopes they'll get to do another Robin Sparkles during the weekend. Craig isn't giving up much, but he does say, "It's a wedding. People sing songs at weddings. Who knows what could happen."
12:18 - Robin sings a little bit of "Let's Go To The Mall." The music plays and some people sing along, but it didn't really take off. And then we move on to talking about Lily and Marshall. Jason and Alyson say they really like each other and they laugh at each other's jokes. Moderator mixes up Alyssa Milano and Cristin Milioti names, which results in a joke about us meeting the mother and finding out who the boss is. Josh Radnor talks about doing a top-secret meeting with the actor. Neil says they have great chemistry together. And Josh talked about Ted reaching the end of his rope looking for love. He was either going to go crazy or meet the love of his life.
12:25 - Pamela Fryman says the first episode picks up where the show left off but gives a lot of hints about what's in store. She says it's exciting and heartbreaking at the same time that the show's ending. She says when we tune in for the season premiere, we won't be disappointed. Neil points out that Fryman directed the pilot and most of the other episodes. They go to her for everything. "She's our teacher and our friend and I deeply think that the heart of the show and the consistency of the show would not be the same if not for her," and then he calls for a round of applause. And then Jason makes a joke that seems out of nowhere: "Be careful of the guy in the bear suit, he's bi-polar."
12:29 - Craig says HIMYM has kind of been a drama. They've been able to show some dark parts of life and how friends get through those things. He credits the cast has allowed them to right not just a sitcom but a story, movie or novel. He says Season 9 is going to be beautiful and funny and dramatic and awesome. Josh tells a story about a fan who points out the show's a flashback from the future to the present and it makes him appreciate the memories that are being made right now. Craig says when they pitched the show, he said it would be a guy's 100 best memories from his past, and now they're going to hit 200. Jason points out the show's longevity by comparison to his past shows (Freaks and Geeks referenced). Cobie says she never expected herself to be here eight years after doing the pilot. She feels lucky that they get to say goodbye.
12:35 - Neil says, "I never thought I'd get to make out with so many chicks. A lot. I dry humped an old lady for like more than an hour. And then I came to work." He says Barney's attitude on life is a grand adventure, or he makes up a grand adventure. He says it's been awesome and freeing to get to be the crazy one within the show. He'll look back on this chapter as the best work experience that he'll have ever done. Alyson's grateful that they get to have a last season to end it the way the writers deserve to end up, but also to thank the fans for their support. She thinks the season feels like a big thank you to the fans, who kept them on the air.
12:38 - A fan asks if we'll see anything beyond the wedding or is it leaving off open-ended. Carter says they don't want to give anything away about what we'll find out or when. They once thought that the show would end with the reveal of the mother. But now they know that people want to know who she is and we want to see the great moments that are ahead of him once he meets this girl. He says we're going to get to know this lady and see the two of them. Craig says they're going to spend Season 9 getting to know her. Alyson says Jason's really good at sandwich making. And Jason also enjoys a game of Balderdash.
12:41 - A fan requested "The highest of fives" after reciting something to Neil Patrick Harris. He came down off the stage, where I assume he gave the guy a high five. Couldn't see as the fans asking questions aren't on camera. Another fan says they have someone here as a Hanging Chad. Josh says he sees more Hanging Chads every Halloween than he ever expected. Fan asks Alyson what she'd take from the set. Alyson says the little English phone booth. Cobie says the blue French horn from the pilot. Alyson says she wants to steal the entire set.
12:45 - Alyson says Jason makes songs. Suggests he sing, which results in Jason singing the first line of the Dracula musical Jason admits he actually wrote that song years ago before Forgetting Sara Marshall because he actually thought he might make a Dracula musical to save his dying career. And it kind of did. The cast tells a story about how they each bought a Prius when they got picked up for a third season, except for Jason, who got a Hummer. Jason announces that he drives a Vespa… not just for the environment, but for the ladies.
12:51 - Josh talks about growing up with the cast - some of them have kids now - spending nine years with them. He feels really blessed by the whole experience. A fan thanks the panel for teaching him how to be a bro. And the panel ends with a question about the songs. Carter talking about the "Bang Bang" song, which results the whole panel singing the "Bang Bang" song for us. And Carter brings up the "You Just Got Slapped." A new version of the song will be sung on the show by someone they can't reveal. Teasy! I like it. And that wraps it up! Fun panel and I'm now more excited than ever to see the last season!
Assistant Managing Editor
Kelly joined CinemaBlend as a freelance TV news writer in 2006 and went on to serve as the site's TV Editor before moving over to other roles on the site. At present, she's an Assistant Managing Editor who spends much of her time brainstorming and editing feature content on the site.
Your Daily Blend of Entertainment News
Thank you for signing up to CinemaBlend. You will receive a verification email shortly.
There was a problem. Please refresh the page and try again.