How Long Benedict Cumberbatch Would Like To Play Sherlock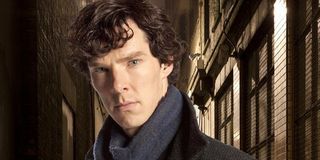 Benedict Cumberbatch has been a busy man over the past few years, taking roles in big budget films like Star Trek Into Darkness and The Imitation Game. But, in true Cumberbatch fashion, he has stayed humble, appreciating the breakout role that paved the way for his fame. His commitment to the role of Sherlock is quite endearing, and it doesn't look like he wants to give the gig up anytime soon. Here's how long Cumberbatch would like to play Sherlock.
The BBC detective drama first broadcast in 2010, and has since gained a serious cult-following that prides Cumberbatch's character, Sherlock, as a neurotic, genius of a leader. The show follows detective Sherlock Holmes and Dr. John Watson on remarkable adventures that test the intellect and observation skills of the protagonist. With praise for the incredible direction, quality writing and performance, critical reception of the show has overall been highly positive. And The BBC has already signed on for a special, along with a fourth season of the hit series.
The real problem lies in whether or not Cumberbatch has time for the show anymore. Movie roles keep piling up, and while fans are excited to see his sweet face on film, we also want more Sherlock. The gut-wrenching wait between seasons always felt too long anyways (case in point, the show has had a haphazard appearance in the schedule), but it was painfully accepted, for the wait was well worth the effort and production value of the result. It's tough to think that in the future Cumberbatch's stardom could hold back the process even more. THE HORROR.
Back when Season 4 was confirmed, the writer and director of Sherlock Steven Moffat sat down with Bustle to discuss the delay. He admits:
Unfortunately (or fortunately), Benedict Cumberbatch has been graced with some serious acting chops that go far beyond television. With its lengthy runtime, Sherlock arguably has more similarities to film than many other shows on television, so it's no wonder the role fits so well, even if it takes a while to get new episodes on the air. If the past delays have proven anything, the longer it takes to make a new season, the better the show turns out. Luckily, we shouldn't have too much longer to wait. Sherlock is currently filming the one-off special, which is expected to have some throwback greatness, and Vogue reports Season 4 will be shot in 2015. Hopefully, Cumberbatch, Freeman and co. will put together plenty of new seasons before he's playing Sherlock as an old man.