Sherlock Ideas Set For Seasons 4 And 5, Matt Smith Crossover Not Impossible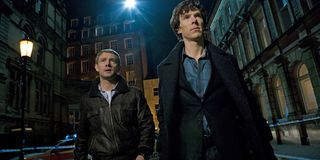 Though stateside the premiere is still a few days out, the BBC's Sherlock is set to close out its third season on Sunday across the pond. But that doesn't mean the wheels haven't been turning for a confirmed fourth and hypothetical fifth season of the international megahit. In fact, the series' showrunner Steven Moffat revealed that plans are in place for both. Rejoice, nerds of the world: your favorite hyper-brilliant misanthrope has been given an extended gameplan.
While speaking to the audience at a BAFTA screening of His Last Vow, Moffat revealed the unexpected news that he and writer Mark Gatiss (also known as Mycroft Holmes to fans of the series) have already planned the whole thing out. "Rather excitingly, Mark and I, for no particular reason, we just got out of the rain and sat at the top of the [Sherlock] production bus… and we just started plotting out what we could do in the future, and we plotted out the whole of series four and five."
"The ideas we had that day, I thought were the best we've ever had," explained a modest Moffat. "...Our plans don't tend to be 'Let's blow up the world or cast the most famous person in the world' they tend to be 'What exciting twists and turns can we add to this?' And I think we've got some crackers." It's a happy prospect on the eve of the season three finale, which will no doubt cause a tizzy of post-lockian depression across the pond and beyond. Given the immense international popularity of the show, a fifth seems equally as likely, all things considered.
And if that weren't enough to cause an apoplectic meltdown, Moffat also recently revealed, in the most speculation-baiting, not-really-news-but-we'll-take-it of fashions, that recently regenerated Doctor Who star Matt Smith could possibly/maybe end up in an episode of Sherlock, should a scenario where a Smith cameo on the series magically fall into place. Ready, set: fanboy.
"Nothing is impossible," the showrunner explained. Though it should be noted that "it's not something we're particularly striving for," either. It's not a yes, but it's not a no, either — so go forth and freak out, TV Anglophiles. That should make the subdued under-reactionaries in both fandoms quite happy, if not likely produce the fall of Tumblr and several other corners of the Internet. Death by GIF: welcome to 2014.
Of course there is a tiny hitch in the hypothetical: Smith and Sherlock star Benedict Cumberbatch might not be as keen as all of you. "There's enough inevitable crossover talk between those two, it might be disconcerting for either of them to appear in the other's show." But, "if there was a perfect part for [Smith], there's no rule against it. We wouldn't want it to be stunt casting, because stunt casting doesn't work, so it would have to be just because he was overwhelmingly right for it. I mean, I love working with Matt. He's a phenomenal actor. I'd jump at the chance to work with him again. I don't know how likely that is to be on the set of Sherlock," Moffat said.
So there you have it: a teeny, tiny, damn-near microscopic ray of hypothetical hope. Now go have fun in your fan fiction caves, piecing together stories with potential baddies Smith could play. Go nuts. Or, you know, just go watch that "Wholock" crossover fan video. Feel free to fill in the blanks with your wild imagination.
Sherlock premieres in the US on Sunday, January 19 on PBS.
Your Daily Blend of Entertainment News
Thank you for signing up to CinemaBlend. You will receive a verification email shortly.
There was a problem. Please refresh the page and try again.