Hulu Will Offer Community, Modern Family, And Other PaleyFest Panels On Demand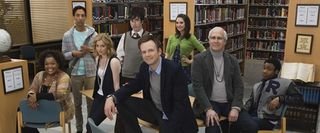 TV fans with a hankering for behind-the-scenes info about how their favorite shows are made, here's some exciting news for you. Hulu has announced a partnership to stream panels and other content from the annual William S. Paley Television Festival, aka PaleyFest, on demand beginning March 15th. The festival, held each year at The Paley Media Center, includes numerous panel interviews of the casts and creative talents behind some of the most popular shows on television. The panels are always fascinating, and often turn up online on as DVD extras. This year, however, fans who can't attend or watch the live stream will be able to watch nine of the panels on demand at their leisure thanks to Hulu.
So which events will you be able to see? According to PaleyFest's website, nine panels will be available to watch on Hulu. The shows featured include: Community, Once Upon a Time, New Girl, The Office, Bones, Castle, The Vampire Diaries, Revenge, and Modern Family. That's a solid line-up, and the Community panel should be especially interesting given the current questions about the show's future. Not included in this Hulu deal are the events for American Horror Story, Sons of Anarchy, Two and a Half Men, and Mad Men. Fear not: you can still watch those panels via the live stream accessible from Paley's site.
If you don't want to wait for the on demand Hulu versions, here's the daily event schedule:
Your Daily Blend of Entertainment News
Your Daily Blend of Entertainment News
Thank you for signing up to CinemaBlend. You will receive a verification email shortly.
There was a problem. Please refresh the page and try again.