I Quit: Five Great Job Ending TV Moments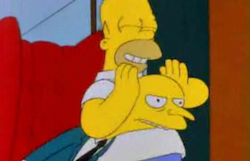 "I love a good quitting story. It makes me feel like I have control over my own life. Gives me hope! - Oscar, The Office.
There were two great quitting stories buzzing around the internet today. The first is of course, the Jet Blue flight attendant who made his dramatic exit from a plane (opens in new tab) (and most likely, his career) after an altercation with a passenger. The second involves a girl using a white board and some sassy facial expressions to make her point, which includes outing her boss' Farmville addiction.
Most people love a good job-departure story and while the news provided at least two of those today, TV has a history of great quitting/firing moments. Below are some of our favorite farewell-job moments.
---
Kenneth Tells Everyone Off In His Own Polite Way
30 Rock
Kenneth Ellen Parcell has spent four seasons of 30 Rock being the perfect NBC page, but the one time he tries to screw up on purpose, so he won't be promoted and forced to move to Los Angeles, he insults a bunch of high-ranking officials and gets fired by Pete. When Kenneth shows up at Grizz's wedding reception that night, the speech he gives technically isn't a quitting speech, but it's so memorable it may as well have been. Watch it below, and have a wonderful summer!
---
Unquitting
Seinfeld
In the video below, George says what many people wish they had the guts to tell their boss. Then he tries to un-quit by showing up at work and pretending like it never happened. (That video is here.)
---
Who's Coming With Me?!
Entourage
Ari tried to control his job departure, however his employers got wind of it, forcing him to have his own special Jerry McGuire moment before leaving the office.
---
Paralyzing The Boss' Head With Rage
The Simpsons
Homer takes a moment to tell off Mr. Burns in his own, silly, pointless way.
---
Quitting Is The Only Option
The Office
For Toby, the only escape from the awkwardness that resulted in briefly groping Pam's knee was to quit, announce a move to Costa Rica and then bolt from the building and hop a fence to put as much distance between himself and the awkwardness as possible. Unfortunately, I wasn't able to find the video of this gloriously sad moment, so we'll have to do with Michael giving Toby a proper send-off by singing him a song.
Your Daily Blend of Entertainment News