Idol Ushers In The First Celebrity Mentor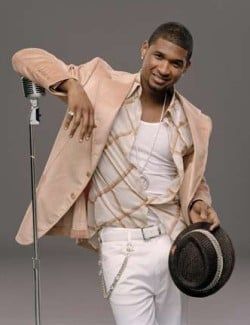 On a recent episode of America's Best Dance Crew, the challenge was to incorporate the smooth dance styles of R&B sensation Usher into their routines. It looks like Usher is gliding over to Randy Jackson's other little show on March 30-31. That would have him there for the Top 10 as a likely mentor and musical guest.
Usher's new album, Raymond v. Raymond, drops March 30, so it's a logical choice. Add to that his existing relationship with Jackson, and you have what looks like the first celebrity mentor for the new season of Idol. Even better, it's a hip and current artist, as opposed to celebrities many of these kids will have never heard of.
Zap2It speculates this means a possible R&B themed week, as Usher's library may not be expansive enough just yet to warrant a theme of his own (though that hasn't stopped them before). I'd still love to see a former Idol contestant come back as a mentor. Kelly Clarkson and Carrie Underwood are far enough out from their own Idol experiences to be able to come back and offer some brilliant advice on both singing and the competition in general.
Your Daily Blend of Entertainment News
Your Daily Blend of Entertainment News
Thank you for signing up to CinemaBlend. You will receive a verification email shortly.
There was a problem. Please refresh the page and try again.