Interview: Calista Flockhart Talks Brothers And Sisters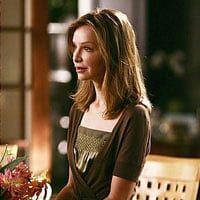 Fans of Ally McBeal's breezy relationship issues may be shocked to see Calista Flockhart in ABC's new drama Brothers & Sisters. She plays a right wing conservative radio show host, although much nicer to look at than her real life counterparts. In the show, she and her other siblings regroup at home to deal with a family crisis. That, says Flockhart, is more central to the character than her job.
"I also think the character is a woman who is at a point in her life where she's making decisions that will carry her through the next 10, 20 years, so she's going through a stage," said Flockhart. "It's 'By the way, she's a conservative' but she's still a young woman who is making decisions about her family and about her boyfriend and about marriage and about having her own family, and I think a lot of issues like that will come up."
After her five year absence from any screen, large or small, it was important for Flockhart to find something very different than her previous gig. "I think that the character that I'm playing now is so fundamentally different than Ally that I haven't I haven't felt like I had to worry about it at all. But I definitely wanted to make a different choice. I think this show is very different. It's a very real show, and Ally was sort of fantastical and a different kind of reality, and it was very high comedy. This is, I think, funny, and yet it's just different. So the responsibility, I think, is off of me because it's such a different playing field."
Another big difference is that without a David E. Kelley at the helm, she doesn't have to treat each script like a Shakespearean play. "I keep calling the script supervisor and saying, 'What is that word? Is it is or it?' I'm very specific about the words I say and Robbie [Baitz] and Ken [Olin] are like, 'Who cares?' and I say, 'I care.' It's funny because Robbie writes it better than I do so I'm the actress that stays right on the script unless it's asked of me to improv. But usually I like to stay right on the script."
Having been a stay at home mom for five years, the biggest decision to make Brothers & Sisters was how to fit work into her family life. "My son is five. He's off to school. I miss acting a lot. I wanted to stay in L.A. I don't want to travel. And out of the blue, and I was sort of thinking about, 'Well, it's time for me to go back to work. I really want to go back to work.' And then I got a phone call from Robbie, who I've known for a long time from doing theater in New York. And it just seemed like the perfect time and the perfect project. And the fact that the show is an ensemble with so many wonderful, amazing actors, I wasn't going to be responsible for carrying the show and I would have a better schedule."
Five years is a long time, and one can imagine any actor suffering from withdrawal symptoms after a shorter while. "I certainly did [miss acting]. I loved being a mom but as any mother can tell you, you stay home with a two year old 24-7 and you get mush brain and you start wishing that you were working. And then when you're working, unfortunately you're wishing that you were home. It's a tough dilemma that I have a new appreciation for."
Now that she's back, there's hardly a downside. "No, actually, it's fun to be back. All parts of it. It's fun to get out and talk about your work with people. It's kind of exciting to get feedback and know what other people are thinking. It's interesting for me."
Brothers & Sister premieres tonight at 10 on ABC.
Photo credit: ABC/SCOTT GARFIELD
Your Daily Blend of Entertainment News
Thank you for signing up to CinemaBlend. You will receive a verification email shortly.
There was a problem. Please refresh the page and try again.