Ion Pulled The Guard And Nobody Noticed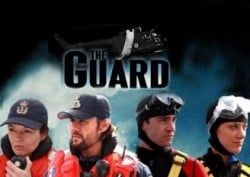 In one of my favorite recent stories, The Futon Critic announced that Ion's The Guard series had been on hiatus ... for the past two weeks. My guess is that nobody noticed it was gone. "[The series] did not find a broad enough audience on the network," a spokesperson for Ion said. "So at this time, it is on hiatus."
How many people even know what Ion is? The network appears to be struggling to find its identity. About eleven months ago, they filed for Chapter 11 bankruptcy after eleven months in existence. Ion started as the PAX network, before converting to "i" and then Ion. And despite being available in over 94 million homes, MyNetwork TV has more viewers.
PAX started as a more Christian-based network, airing repeats of shows like Touched by an Angel and Highway to Heaven, along with game shows and spiritual programming during the overnight hours. By January 2009, the network now known as Ion was airing far darker fare when they brought down the Canadian crime drama Durham County. It was probably on the success of that they thought The Guard would work.
For now, they're still mostly known as a place to catch repeats of other networks' popular shows like Ghost Whisperer and Criminal Minds, along with many popular older shows. In order to grow, though, the network needs to find a way to forge a unique identity for itself.
Even though MyNetwork TV failed with their attempt to make American telenovelas, at least the experiment let audiences know they existed.
Your Daily Blend of Entertainment News
Your Daily Blend of Entertainment News
Thank you for signing up to CinemaBlend. You will receive a verification email shortly.
There was a problem. Please refresh the page and try again.