It's Always Sunny In Philadelphia Review: Season 6 Premiere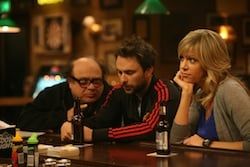 It's Always Sunny in Philadelphia is set to premiere its sixth season this Thursday and based on the first few episodes, there's still plenty of funny left in this show as the Paddy's Pub gang takes on issues ranging from gay marriage to boat ownership.
It's Always Sunny in Philadelphia follows Mac (Rob McElhenney), Dennis (Glenn Howerton), Charlie (Charlie Day), Dee (Kaitlin Olson), and Frank (Danny DeVito) as they plot and scheme to get ahead, usually falling over each other and themselves and failing miserably in the process.
With a show like Sunny, the formula is pretty simple. Take an issue or circumstance, think of how a normal person might react to it, then toss that aside and think about how a group of selfish, self-absorbed, occasionally-delusional people might handle it and you have your episode. This is certainly not a negative remark on the series as the characters' social and emotional shortcomings are exactly what makes the show so funny. They're all id, out for themselves and willing to stampede over anyone who might be an obstacle between them and whatever goal they happen to have at the time.
Before Louie, I considered It's Always Sunny In Philadelphia to be the most outlandish and occasionally-uncomfortably shocking (but hilarious) TV show on FX. While Sunny still ranks highly in that arena, it seems almost (almost) tame by comparison to the new Louis C.K. comedy series. With that said, there's really no reason to compare the two shows, other than that they both fit in that "did he/she really just say that?" category of comedy, and in that respect, from what I've seen of Season 6, Sunny is still hitting the mark. As I suspect the shows share an audience, and Louie is done for the season, viewers who will miss Louie will get their fix of bluntly-honest comedy in It's Always Sunny in Philadelphia.
And if you're new to the series, rest assured, you can jump right in. This isn't a show that blocks newcomers out with a flood of inside jokes that only regular watchers will get. While there are recurring characters and themes in the show, the episodes are usually of the stand-alone variety, so feel free to tune in to FX on Thursday night and give it a shot if you haven't already. And, for those of you who want to see things a little bit clearer this season, the series made the switch to HD.
Now for the spoilers! They're mostly vague but consider yourselves warned, and if you want to be completely surprised by what's to come for Sunny in Season 6, just stop reading and watch on Thursday night!
The sixth season premiere is titled "Mac Fights Gay Marriage," and if you're familiar enough with the series, you know there must be more to it than Mac suddenly taking an interest in this hot button issue. You'll learn early on that his issue against gay marriage has less to do with homosexuals getting married as it has to do with him taking offense when he learns that a transgendered woman chose another man over him. Meanwhile, Charlie and Frank look to become domestic partners so they can share medical benefits. They're not the only ones getting legally hitched, and the episode that follows naturally deals with divorce. After that, we get a lovely random episode about the gang's sudden interest in owning a boat and living the Diddy lifestyle. If you need something bigger than boat-culture to look forward to, Episode Four is titled "Who Got Dee Pregnant?" and follows Charlie, Dennis, Mac, and Frank as they try to figure out which of them knocked Dee up.
It's Always Sunny in Philadelphia premieres Thursday, September 16th at 10:00 p.m. ET on FX.
CLICK HERE to view the 2010 Fall TV Premiere Schedule.
Kelly joined CinemaBlend as a freelance TV news writer in 2006 and went on to serve as the site's TV Editor before moving over to other roles on the site. At present, she's an Assistant Managing Editor who spends much of her time brainstorming and editing feature content on the site.
Your Daily Blend of Entertainment News
Thank you for signing up to CinemaBlend. You will receive a verification email shortly.
There was a problem. Please refresh the page and try again.