It's Always Sunny In Philadelphia Season 9 Review: New Channel, Same Brilliance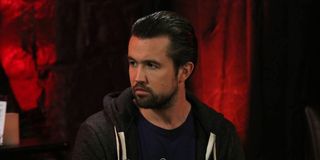 The main characters on It's Always Sunny In Philadelphia are amateur critics. They interact with and enthusiastically judge every single object, human being, beer, restaurant or philosophical idea they come across. During the early seasons, watching that aggressive scheming and unrelentingly selfish behavior was a bit jarring for many viewers. Now, it's almost comforting in a way. The world might change, but the basic personalities of these schemers, cutthroats and loveable villains never do. They're outlandish. They're mean-spirited, and they're still really damn funny.
Nine seasons is a long time for a television program to be on the air. Many that make it that far have a tendency to get a bit self-referential or at least contemplative about all that's come before. The first three episodes of It's Always Sunny Season 9 could definitely fall into that category too. One is a reprisal of the hysterical first season episode "Gun Fever" ("Gun Fever Too: Still Hot"). One is an examination of what happens when a member of the Gang breaks down after years of taunts and insults ("The Gang Broke Dee"), and the other is about the lack of awards Paddy's Pub has received over the years ("The Gang Tries Desperately To Win An Award"). None of those could have possibly occurred during the first year. Shows don't circle back to earlier episodes during their first few years, nor do they deliver veiled commentaries on the lack of awards they've been honored with or examine the lasting effects of their behavior. These are most definitely Season 9 ideas (just like these promos), but in all honesty, that's really not a bad thing.
For a show to work over a long period of time, it needs to evolve without losing the original vision, and the original vision of It's Always Sunny In Philadelphia was that of eternally optimistic, stupidly aggressive Philadelphia residents who never stop scheming. That's still all in place. What has changed (other than the Season 2 addition of Danny DeVito as curmudgeon Frank Reynolds) is the world and situations Dennis (Glenn Howerton), Mac (Rob McElhenney), Charlie (Charlie Day) and Dee (Kaitlin Olson) respond to, and the writers are still remarkably great at picking the right hot topics to employ. A perfect example is circling back around to the "Gun Fever" episode from Season 1. The Second Amendment is always a divisive issue, but there are times in which it's on the forefront of people's minds. That's the way it was in 2005, and that's the way it is in 2013. Consequently, it doesn't feel forced or unnecessary. It feels deserved.
When observers discuss great comedies, they often talk less about individual episodes and more about a prevailing tone. For example: have you ever encountered a bizarre work situation and thought, "This would make a great Seinfeld episode?" There's a brilliant Twitter account devoted to this very subject, and given how fully-fleshed out, consistent and loveable the core It's Always Sunny characters have become over the past nine years, there could someday be one about this show too. It's that on point and consistent, and if these early episodes are any indication, this upcoming season certainly will be too.
It's Always Sunny In Philadelphia premieres on September 4 on FXX.
Enthusiastic about Clue, case-of-the-week mysteries, the NBA and cookies at Disney World. Less enthusiastic about the pricing structure of cable, loud noises and Tuesdays.
Your Daily Blend of Entertainment News
Thank you for signing up to CinemaBlend. You will receive a verification email shortly.
There was a problem. Please refresh the page and try again.