J.K. Simmons Is Hosting SNL For The First Time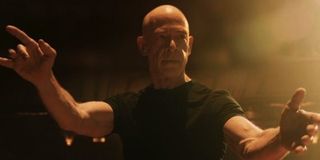 J.K. Simmons is hot on the trail after his recent Golden Globes win as Fletcher in Damien Chazelle's music-based indie drama Whiplash. With a movie to promote and an Oscar possibly in his near future, the hardworking actor is poised for his first ever appearance as host of the popular sketch comedy show Saturday Night Live.
While Simmons isn't necessarily known for providing onscreen laughs in the traditional sense, he does have a great sense of comedic timing. He is most widely known for his dramatic roles but has appeared in numerous comedies including films like Juno, Thank You For Smoking and Mike Judge's Extract, as well as television shows like Arrested Development and Party Down. With the aforementioned work and a slew of other humor-based projects already under his belt, his weekend comedy gig appearance set for Jan. 31, 2015 should prove no challenge for the seasoned actor. Simmons is set to appear on SNL as the host of the episode; his musical guest will be D'Angelo and the Vanguard.
This year is a big year for Saturday Night Live as the long-running show, which premiered in 1975, will turn 40. This past Saturday saw The Wedding Ringer's Kevin Hart taking on hosting duties, joined by musical guest Sia. This week's episode will feature the debut of Blake Shelton, taking on double duties as both host and musical guest, a dynamic that usually provides for some pretty good laughs. Beyond going all out with SNL's hosting lineup, NBC also will air a primetime special on Feb. 15, 2015.
While SNL often does far better with straight-up comedians as hosts, some dramatic actors have really shined on the late night sketch series. In recent years, Kerry Washington and John Hamm come to mind as two of them. Whether Simmons will thrive has yet to be seen, but I'm guessing the show should attempt to pull parody material from his lengthy filmography, which includes a noteworthy role as Vern Schillinger on HBO's Oz--a role J.K. Simmons actually did reprise on Saturday Night Live back in 1999 during the episode hosted by Jerry Seinfeld. Maybe we'll even get a mash-up scenario. I wouldn't put it past the writing team. I also wouldn't rule out an appearance from Simmons' Whiplash co-star Miles Teller. Maybe a role reversal situation would even be appropriate. I'm sure Teller wouldn't mind being the one dishing out the slaps for a change.
Catch J.K. Simmons on SNL at the end of the month. In the meantime, new episodes of NBC's late night sketch series air on Saturday nights at 11:30 p.m. ET.