James Callis Is Ready To FlashForward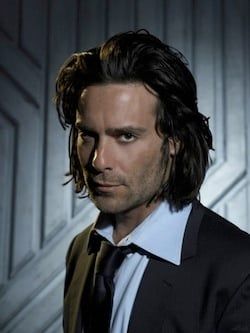 Things keep looking up for ABC's FlashForward. We've already covered some of the promising changes made to the series, but now they've secured Dr. Gaius Baltar of Battlestar Galactica fame to join the series in a major role, according to Zap2It. James Callis is joining the show in a role so mysterious, all we're told is that he's a "really exciting, unusual character." That sounds a lot like what they told us about Dominic Monaghan's character back before the show started, and that certainly got people buzzing.
Ultimately, though, there were a little less than enthused about his character, but I have a hard time imagining Callis not eating up the screen and dominating every scene he's a part of. The man just has such a presence about him. Plus, as far as I'm concerned, any character that can take more camera time away from Joseph Fiennes' Mark Benford is a boon in my book. It was confirmed that Callis' role will have a strong connection to Olivia, so maybe he's being brought in to ultimately replace Mark on the show.
Wouldn't it be incredibly dramatic -- and great! -- if Benford bit the dust in the climactic finale. Then he won't have to look like he's been constipated for about three weeks all the time, and that's a win for all of us. Plus, with the cast additions we've seen, the show certainly doesn't need him.
Plus, it would free Fiennes up to get back into the movies. I've actually liked his work there. Maybe it's the character he was given, but the character of Benford has been a headache almost since the beginning, and Fiennes doesn't look comfortable in his skin. Maybe the hiatus and change of showrunner will benefit him as well. We'll just have to wait and see.
FlashForward returns with a recap special on Tuesday March 16 at 10 PM ET. It then returns to its regular night with a two-hour episode on Thursday, March 18 at 7 PM ET.
Your Daily Blend of Entertainment News