Is Jerome Really The Joker? Here's What Gotham's Creator Says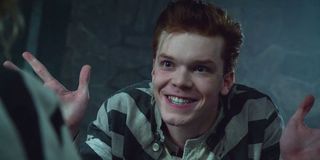 Ever since Jerome Valeska made a memorable debut in Gotham Season 1, the series has been cagey about whether or not the insane teenager is the future Joker. This kicked into overdrive when Jerome was broken out of Arkham Asylum in the Season 2 premiere and went on a terror spree in Gotham City last week. So far his M.O. lines up with the Clown Prince of Crime's, but the series has yet to address whether a purple suit is in his future. Fortunately, an answer to that question will arrive shortly.
Executive producer Bruno Heller told Nerdist that Gotham will set the record straight on how Jerome fits into the myth of The Joker. Heller said:
Let's look at the striking similarities that Jerome shares with The Joker on Gotham. He has that same violent streak, the same love for chaos and, most importantly, the same maniacal laugh. However, many Batman stories don't show Joker going completely off the rails until after he was knocked into that vat of chemicals during an encounter with Batman, which colored his hair green, his skin white and his lips red. Since it's at least a decade before the Caped Crusader shows up in Gotham City, it's possible that Jerome is simply a red herring. With a massive target painted on his back, it's not hard to imagine him getting killed in the near future, but not before indirectly inspiring the individual who eventually will become The Joker. This would also ensure Jerome doesn't take attention away from Gotham's new main antagonist Theo Galavan and his sister Tabitha.
Whether he's The Joker or not, Jerome has already left a devastating mark on Gotham City. His attack last week on the GCPD with his fellow Maniax left nearly every cop inside dead, including Commissioner Sarah Essen. This will result in a major GCPD shakeup when Michael Chiklis' Nathaniel Barnes takes over as captain, and according to Heller, the police force will be using "more ferocious tactics" to clean up the city, which will yield both positive and negative results. As for Jerome (a.k.a. Public Enemy #1), he and the remaining Maniax will attack a children's hospital shindig in tonight's episode, which is being attended by the young Bruce Wayne. Before that, the cackling youth will pay a visit to his father Paul Cicero, and you can probably predict, the reunion won't end well for the blind fortune teller.
You can catch new episodes of Gotham Mondays at 8 p.m. EST on Fox.
Connoisseur of Marvel, DC, Star Wars, John Wick, MonsterVerse and Doctor Who lore. He's aware he looks like Harry Potter and Clark Kent.
Your Daily Blend of Entertainment News
Thank you for signing up to CinemaBlend. You will receive a verification email shortly.
There was a problem. Please refresh the page and try again.