Gotham Just Cast Another Ruthless Killer From The Comics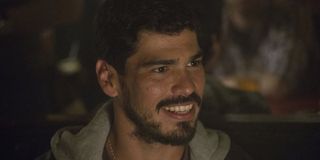 Gotham City is already a horrible place to live, but in Gotham Season 2, things are worse than ever. Villains are running rampant across the city, from Theo Galavan and his sister Tabitha plotting sinister machinations to the Arkham Asylum escapees spreading chaos as the Maniax to Penguin and his criminal empire slowly seizing more power. Now, a new evildoer has joined the ranks: minor Batman antagonist Eduardo Flamingo, who will be played by Looking star Raúl Castillo.
Debuting in Episode 9 this season, Castillo's Flamingo is described by Variety as a dangerous hitman who doesn't see killing as a job, but as an art form. This assassin, armed with "a spiked chain and an appetite for flesh," will be one of Jim Gordon's "trickiest" adversaries over the course of the season. Gotham star Ben McKenzie actually teased Flamingo's appearance on Late Night with Seth Meyers last night, but understandably, there was no reaction from the audience when his name was mentioned. After all, this guy isn't on the same level as troublemakers like Joker or Two-Face.
Eduardo Flamingo was created in 2010 by writer Grant Morrison and artist Frank Quietly. He made his debut in Batman and Robin #6, which at the time starred Dick Grayson as the Caped Crusader (rather than Bruce Wayne) and Damien Wayne as Robin. Flamingo had the unfortunate tendency to eat people's faces after killing them, and his kill record is "impeccable." Fortunately, the Dynamic Duo was able to defeat him with the help of Jason Todd, a.k.a. The Red Hood. Since then, he's appeared on and off in the New 52, most recently in the weekly series Batman Eternal.
Flamingo is among the many new Batman villains who will be appearing in Gotham Season 2, including Mr. Freeze, Mad Hatter, Clayface and a female Firefly. However, unlike most of the other colorful members of Batman's rogues gallery, Flamingo is a minor enough character that it's possible he won't live to see the day when Bruce Wayne puts on the cape and cowl in the Gotham universe. Still, it sounds like he'll have his hands full with dealing with Gordon in the streets of Gotham City. It also remains to be seen who Flamingo will be working for, though if Victor Zsasz isn't cutting it anymore, I could see Penguin hiring him.
Castillo is most well known for playing Richie Donado Ventura on the HBO series Looking. His other work includes guest spots on Nurse Jackie, Law and Order and Damages. Next year, he can be seen in the film Special Correspondents, which also stars Eric Bana and Ricky Gervais.
You can catch new episodes of Gotham on Mondays at 8 p.m. EST on Fox.
Connoisseur of Marvel, DC, Star Wars, John Wick, MonsterVerse and Doctor Who lore. He's aware he looks like Harry Potter and Clark Kent.
Your Daily Blend of Entertainment News
Thank you for signing up to CinemaBlend. You will receive a verification email shortly.
There was a problem. Please refresh the page and try again.