Jesse L. Martin Turns In His Badge And Gun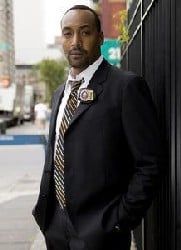 I really should have just titled this "Jesse L. Martin Breaks My Heart." According to The Hollywood Reporter, Martin is leaving Law & Order after nine years on the venerable cop drama. Martin joined the cast after Benjamin Bratt's exit, filling the role of Briscoe's (Jerry Orbach) partner, Detective Ed Green.
Martin's contract for this season was for thirteen episodes, with the option to re-sign for more. He is said to be filming one more episode before his character is written off of the show. Martin's replacement is said to be Anthony Anderson, most recently of the Fox cop drama K-Ville. Anderson is said to be in final negotiations for the role, which will pair him with Jeremy Sisto, who just joined the cast as Cyrus Lupo, Detective Green's newest partner, this season.
Frankly, this doesn't make sense to me. Martin has put in his time through the bad (Elisabeth Röhm), the horrible (Jerry Orbach's death) and the awkward (the ensuing Farina years), and just when the show is in a renaissance, he up and quits? Any critic or fan of the show will tell you that Law & Order is the best it has been in years. The combination of Sam Waterson's new role as District Attorney, Linus Roach as the new Executive ADA, and the addition of Jeremy Sisto is making the procedural work on a level it hasn't been able to attain in years.
The possible bright spot in this dark cloud of despair (if you can allow me to be a little melodramatic) is the casting of Anthony Anderson. Anderson's chilling turn on the FX drama The Shield as drug kingpin Antwon Mitchell made it clear that the comedian was a dramatic force to be reckoned with. His good-guy role on K-Ville wasn't as impressive, but that show had a lot of problems that I'm not sure anybody could really overcome (also, I guess this news gives us a good indication of the chances of that show getting a second season).
I'm hopeful that L&O's resurgence won't be stalled by Martin's departure, but regardless, Jesse L. Martin and I are no longer on speaking terms. I'm sure he'll be heartbroken.
Your Daily Blend of Entertainment News
Thank you for signing up to CinemaBlend. You will receive a verification email shortly.
There was a problem. Please refresh the page and try again.