Jewel Cast As June Carter Cash In Lifetime Biopic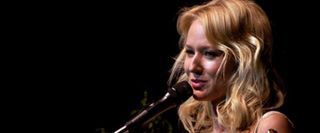 Lifetime is moving forward with a movie based on the life of June Carter Cash, and they've cast the leading role. Singer Jewel is set to play June, who is often remembered mainly as the wife of Johnny Cash. The woman behind the man in black will get the chance to have her story told this time.
Deadline says that Jewel will take on the role for which Reese Witherspoon took home an Oscar, for 1005's Walk the Line. It's an interesting casting reversal; in Walk the Line, singer June Carter Cash was played by a woman who is primarily an actress, while Lifetime has a woman who is primarily a singer taking on an acting role. Can a singer who has few acting credits handle a role simply because the character is a singer as well?
The June Carter Cash Story, based on the biography written by her son, John Carter Cash. It chronicles the singer's early years, her rise to fame and both of her marriages, including the one to Johnny Cash, who will be played by American Horror Story's Matt Ross. Although Johnny Cash will of course feature in the movie, it sounds like it will be much more focused on June's life.
This is the first major role Jewel has taken on; she's done some small roles in the past. It will be a big test, one many singers before her have tried with mixed success. At least she shouldn't have any trouble with the singing parts.
Your Daily Blend of Entertainment News
Thank you for signing up to CinemaBlend. You will receive a verification email shortly.
There was a problem. Please refresh the page and try again.