Jimmy Kimmel's Movie: The Movie Trailer Now Playing Before Actual Movies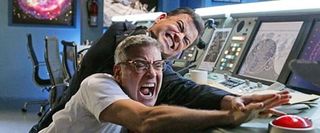 This is so meta your head may actually split apart while reading this story. You may recall that Jimmy Kimmel Live celebrated its posh post-Oscars time slot last month by debuting a star-studded trailer for a nonexistent movie called Movie: The Movie. The spoof poked fun at just about every genre and overdone convention of movie trailers you can think of, and boasted a line-up including Tom Hanks, Meryl Streep, George Clooney, and Gabourey Sidibe as "Black Hitler." Now THR reports that Movie: The Movie has swallowed its own tail and is appearing in front of actual movies on nearly 6,000 screens across the nation.
The fake trailer is just the latest in a long line of cameo-heavy videos churned out by JKL, beginning with "I'm Fucking Matt Damon," in which Kimmel's then-girlfriend confessed via song that she was cheating on him with the Bourne Identity pretty boy. That spawned Kimmel's response video, "I'm Fucking Ben Affleck," which in turn led to Elizabeth Banks' "I'm Fucking Seth Rogan," and things just keeping diving deeper down the hole from there. He even drafted some of Hollywood's hottest female stars to do unsavory things to workout equipment in his "Hottie Body Hump Club" video. In an earlier THR interview, Kimmel explained his show's ability to bring in A-list celebs for these videos: "I think celebrities saw that they could be part of something that was a big deal and they got to be funny. Everybody wants to be funny." (That theory doesn't always work out, however.)
Movie: The Movie will be making the pre-show entertainment actually entertaining through April 26th in 650 Screenvision theaters. Or you could just watch it below.
Your Daily Blend of Entertainment News
Your Daily Blend of Entertainment News
Thank you for signing up to CinemaBlend. You will receive a verification email shortly.
There was a problem. Please refresh the page and try again.