Jimmy Kimmel's Rant About Cecil The Lion Generated A Huge Response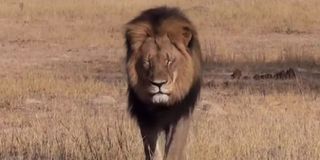 In the wake of a tragic incident at a Zimbabwean national park, many celebrities decided to use their platforms to spread a message of conservation. Among them, Jimmy Kimmel took the time during his late-night talk show to share an emotional monologue calling out the man responsible for hunting and killing Cecil the lion, the nationally beloved animal who lived in the national park. Kimmel not only shared the news of the incident with his audience, but also took the time to educate his audience on wildlife conservation. And Kimmel's emotional rant sure did stick because the response has already generated over $155,000 in donation to Oxford's Wildlife Conservation Research Unit.
Under 24 hours after news of Cecil the lion's murder came out, Jimmy Kimmel took a segment of his ABC talk show Jimmy Kimmel Live to discuss the incident and share his disgust at the outcome. What apparently happened was a Minnesota dentist named Walter Palmer was paid $55,000 to hunt, track and kill an African lion. Palmer claims he had no idea the national celebrity the particular lion was, or that it was being tracked by Oxford University for scientific research. Kimmel, still unconvinced by Palmer's innocence in the hunt, continued to share a whole slew of the man's hunting photos.
By the end of his segment, Kimmel was holding back tears. He was clearly disgusted by this man's actions, and the bad rep he gives Americans. So, he concluded his monologue with a simple request. He asked his audience to support the Oxford Wildlife Conservation Research Unit, who were trying to protect this lion, and help to prove that not all Americans are like "this jack-hole". According to THR, in response more than 2,600 people have already donated to the research unit, and have raised more than $155,000, a number Kimmel most likely wasn't expecting, but can be incredibly proud of. The segment went viral, and already has over 4.6 million views. You can check it out in its entirety below.
As for Kimmel, he didn't stop there in trying to make a difference. The talk show host has been tweeting out a number of celebrities such as Ariana Grande and Marlee Matlin, who have already taken up the cause. Grande tweeted support has already generated more than 8.5k retweets, and is sure to bring more.
If you'd like to support the cause, you can make donations at www.wildcru.org.
Your Daily Blend of Entertainment News
Your Daily Blend of Entertainment News
Thank you for signing up to CinemaBlend. You will receive a verification email shortly.
There was a problem. Please refresh the page and try again.