Journeyman's Kevin Falls Helping FX With Powers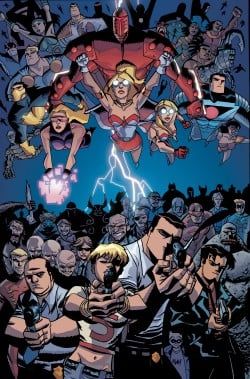 It seems like forever that we've been hearing about a Powers TV series from FX. With the comic relaunching from Marvel Comics, it's about time we got an update. And it looks like a good one. FX President John Landgraf revealed that Kevin Falls (Journeyman) has been working with Powers creator Brian Michael Bendis on the pilot script, according to Premium Hollywood.
If any of you ever checked out NBC's late, lamented Journeyman, you'll know that it was a complex tapestry of storylines and continuity beautifully interwoven around real characters and raw situations. Fans of Powers will find that description very familiar. The comic book centers on two police detectives, living and working in a world filled with super-powered people. As the cops are the focus, the special effects budget should be able to stay lower than even Heroes.
Now, these superheroes and villains are garishly dressed, as in most comics, so that might be tweaked for the series. But the heart of the story is the relationship between Christian Walker and Deena Pilgrim -- at least in the beginning. Through the series, both experience turmoil, heartbreak and the effects of bad decisions. We also learn some starting secrets about Christian, and witness a perhaps more startling transformation in Deena.
How much of the comic series would translate into a television series, but Powers is smart, edgy, sophisticated and about as good a superhero-based comic as you're going to find in comics. And with Falls working alongside Bendis, it has the potential to be a great series as well on really the only network that would give it the opportunity to be true to its source, and give it the chance to breathe and find that audience.
Your Daily Blend of Entertainment News
Your Daily Blend of Entertainment News
Thank you for signing up to CinemaBlend. You will receive a verification email shortly.
There was a problem. Please refresh the page and try again.