Kate Walsh Confirms She's Leaving Private Practice After Next Season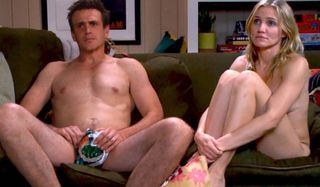 It's official and right from the mouth of the star herself: Kate Walsh is leaving Private Practice. It's a major blow to a series that just confirmed the exit of another major star, Tim Daly. Can the series survive losing both? Will they even try? Walsh is anchor of the series, which was really built around her as a spin-off from Grey's Anatomy, so it seems ABC has a big decision on their hands.
Kate Walsh confirmed to Bethenny Frankel on her new talk show, in an episode that is set to air tomorrow, that she's done after the next season. "This is my last season for Private Practice, yes," Walsh told Frankel, confirming the rumors that had been circulating regarding her future on the show. She'll follow Tim Daly out the door; he's already confirmed he is not returning next season at all. Walsh's confirmation of her departure can be seen on this preview clip for tomorrow's episode of Bethenny.
While there's no news on the future of the show itself, it does seem like ABC will probably have to give some serious consideration to making the upcoming sixth season of Private Practice the last. Losing the lead in any show deals a pretty serious blow, and Private Practice has now seen two stars announce their departure. Kate Walsh leaving is probably the biggest loss the show could have faced, and with ratings on the decline it certainly wouldn't be surprising if ABC decided to bring it to a conclusion. The good news is that the cast departures come with plenty of time to use season 6 to wrap things up. You never know though, ABC could surprise me and try to go forward without Walsh; we'll have to wait and see.
Your Daily Blend of Entertainment News