Kate Walsh May Leave Private Practice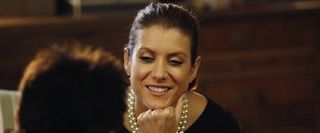 Earlier this week, word made its way around the internet that Tim Daly was reportedly exiting ABC's drama Private Practice, and now we're hearing that another lead actor from the show may be on the way out. The series was shaped around Dr. Addison Montgomery, a supporting character in ABC's Grey's Anatomy, so how would the show do without her? Fans of the medical drama may find out, should the series survive beyond the thirteen episodes currently set for Season 6.
At present, Private Practice is set to return for Season 6, which will consist of 13 episodes. From what the Hollywood Reporter posted today, series star Kate Walsh is "poised to depart" Private Practice, should the series continue on beyond those thirteen episodes. In reporting Walsh's possible departure, site specifies "beyond 13 episodes" and not "beyond Season 6," which could mean there's a chance Season 6 will be extended if it performs in the ratings, unless I'm misinterpreting their wording. ABC declined to comment, so this should probably be filed under "rumor" (and "hypothetical" when taking into account PP's chances of a post-Season-6 renewal).
Given the last-minute renewal and the abridged episode order, it's not exactly a sure thing that the show will be extended for more episodes or renewed for Season 7, unless there's a relatively drastic improvement in the ratings. That said, should it return, it would be a bold move to do so without its lead, but it's not unheard of.
When considering spin-off series that have lost their leads, the first example that came to mind was A Different World, the spinoff to The Cosby Show, which initially starred Lisa Bonet (Denise Huxtable) when she went off to college. After Bonet left the series, Jasmine Guy's character Whitley Gilbert took the lead. That may not be the best example though, not only because that was a comedy but also because in the case of A Different World, Bonet left after Season 1 and that's really when the show took on a life of its own, becoming less of a spinoff series and more of its own thing. Private Practice, on the other hand, is most likely past its peak, and might not have enough momentum at this point to survive a casting shake-up as big as this one.
Photo Credit: ©ABC
Your Daily Blend of Entertainment News
Thank you for signing up to CinemaBlend. You will receive a verification email shortly.
There was a problem. Please refresh the page and try again.