Laguna Beach: The Winter Formal of Our Discontent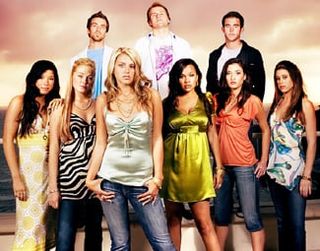 There is an apparent distinction between dysfunctional and meaningless and it's not a fine one. Cami was very wrong (give her a break, it was her first time this season) last week when she named Kyndra and Tyler the most dysfunctional couple in Laguna. To be dysfunctional, there has to be something there, and in this case there just isn't. Tyler's Gucci shoes (which he wore to walk on the beach) have a more meaningful relationship with Tyler than does Kyndra. For a couple whose greatest commonality is a pair of matching sunglasses, an extraneous hook-up shouldn't mean much. So, why make it the focus of an entire episode of Winter Formal happenings? It makes less sense than that cliché-saturated graduation speech made to Alex H. in Season Two.
Tessa's relationship with herself is certainly more dysfunctional than the vacuous coupling of Kyndra and Tyler. The girl said she was actually looking forward to going to Formal sans a male companion and instead with her girlfriends (doesn't this only work when everyone else is dateless too?), but she definitely did not have as much fun as Rocky, who screamed so hard she lost her voice (which sounded much better when gone). Spouting ruminations of her future, Tessa insisted she would still be boyfriend-less come prom time. (Well, not if the producers use their magical Cupid-like powers to concoct some miraculous union ala Lauren-Jason style.)
Aside from the Cameron-Kyndra hook-up that no one saw coming (um, don't any of these people watch the previews?) and Tessa's disappointing two dances, the glitzed-out Winter Formal was surprisingly humdrum. Tyler's nervy sister Nikki watched Kyndra lose her morals but not her shoes as she whispered sexy somethings into Cameron's ear and later "danced gnarly" (I believe that would be gnarlily, Nikki). The snarly eavesdropper, though totally loving her $6,000 monthly shopping sprees, felt tragically torn between a friend and a brother.
Over-the-top dance inquiries seem to be a staple for Laguna. Kyndra's pizza plea, Lexie's car campaign, and Rocky's oceanfront picnic are pathetic attempts at dates when compared to the lavishly romantic prom biddings of Season One. Winter Formal may be much less important than prom, but when the most memorable event of the night is a change in cinematography (the whole home video feel was downright random, and not in the good hook-up way) there is something terribly wrong. Rocky hinted at juicy Winter Formal pasts of idealistic grandeur where "girls got mean" and all kinds of crazy drama seemed to happen. Apparently, history no longer repeats itself.
Your Daily Blend of Entertainment News