Larry David's Clear History Adds All-Star Cast Including Jon Hamm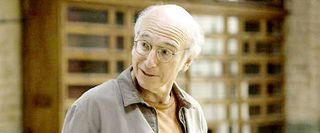 The last time we heard from Larry David's new comedy movie, the project was potentially moving from the big screen to subscription cable channel, HBO. All of the details hadn't been finalized, but, recently, they started shoring up fast. David's new HBO movie is going to be called Clear History and a slew of cast members, including John Hamm, Bill Hader, Danny McBride, Kate Hudson, Michael Keaton and many more have been added to the lineup.
Adventureland's Greg Mottola is directing and executive producing the subscription cable film, which will follow David as Nathan Flomm, a marketing executive who is forced out of his company after an argument causes him to lose a large sum of that company's money. Flash forward ten years and Flomm will be dealing with a whole set of other troubles. When he learns his former boss will be nearby, the former executive vows to seek his revenge.
Early announcements from HBO kept the cast and the plot of Clear History underwraps. Now, THR is reporting Hamm has signed on to star as Flomm's former boss. Other roles have not been totally illuminated, but I'm guessing Hader's connection to Mottola via Adventureland may have helped him to get the role.
Cast additions include Hamm, Hader, McBride, Hudson. and Keaton, but the list does not end there. Phillip Baker Hall, Eva Mendes, Amy Ryan, and J.B. Smoove have also joined Clear History. If that isn't enough news, filming is expected to begin this fall in Massachusetts, so fans are much closer to seeing a finalized project than we were a month ago. TV Blend will keep you posted when more character information surfaces.
Your Daily Blend of Entertainment News