Last Resort's Scott Speedman Joins Ryan Murphy's HBO Pilot Open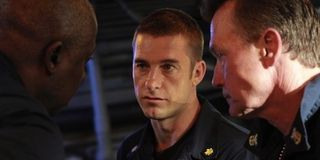 On one hand, the thought of a "sex and relationships pilot" in development for HBO conjures an unsettling flashback of Tell Me You Love Me, a scripted series that - for my comfort - inched a bit too close to reality with the up-close-and-personal approach it took to the featured couples' relationship drama and sexual issues. But on the other hand, it's impossible not to be curious about what Ryan Murphy might have up his sleeve next. Though he might be best associated for his most mainstream work to date, Murphy's contributions to television go beyond one hugely popular Fox musical dramedy. In addition to Glee, he's given us Popular, Nip/Tuck and American Horror Story, not to mention that short-lived comedy The New Normal. What do all of these series have in common? Not much, really, but that's what's so intriguing about Murphy. He's no one-trick pony. And there's definitely potential for him to top himself with a series that isn't bound by network TV or basic-cable standards.
So to say that I'm keeping an open mind about his HBO pilot Open goes beyond mere word play. Plus, we can now add Scott Speedman to the reasons to remain curious about this work in progress. TVLine reports that Speedman has signed on to play the role of Jonathan, an attractive sports-marketing executive. The story, which comes from Murphy and Lauren Gussis (Dexter), follows five characters, among which are a thirty-something married couple, the male co-worker of the husband in that couple, and a female yoga professional in her 40s. There's no mention of whether or not Speedman's character is one of the four described roles.
Speedman's recent credits include starring in ABC's unfortunately short-lived submarine drama Last Resort. Prior to that, he's played the role of Michael in the Underworld films. But many likely know him best for his role as one of Felicity's recurring love interests in Felicity, Ben Covington. The other love interest was Scott Foley, who also found work on HBO recently, playing Patrick Devins last season on True Blood, though he's since moved back over to network TV for Scandal. It'd be great to see Speedman back in another regular role on television, but for that to happen, Open has to make it to series.
Speedman joins The Hunger Games' Wes Bentley, who was previously cast in the pilot, playing the role of Evan Foster, a character described as a blowhard. So far, this cast is looking pretty fantastic. We'll be sure to keep you posted if and when more actors join Open.
Here's an interview Speedman did ahead of The Vow, during which he bursts out laughing when his interviewer mentions his character seems like kind of a douche...
Your Daily Blend of Entertainment News
Thank you for signing up to CinemaBlend. You will receive a verification email shortly.
There was a problem. Please refresh the page and try again.