The Late Show With Stephen Colbert: How Many People Tuned In For The Premiere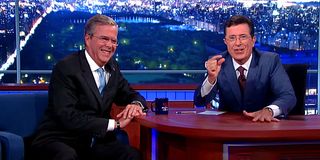 From consuming too many oreos to throwing a bunch of political questions at Jeb Bush, Stephen Colbert got up to a lot of interesting hijinks during his first Late Show appearance. As it turns out, a lot of people tuned in to catch the action on Tuesday night. This morning, CBS has reported that a whopping 6.6 million total viewers tuned in for the debut of The Late Show with Stephen Colbert. Compared to the other late night programs, that's an awful lot of people watching Colbert's show.
Tuesdays ratings indicate that in Live+Same day viewership The Late Show was up 203% in total viewership compared to The Late Show on the same night last year. Granted, the September 8 episode last year was not a season premiere, so those numbers are a little reaching. Still, compared to the season premiere of David Letterman's final run on CBS, Colbert's premiere was up 131% in total viewers, which is a number you can take to the bank.
Early estimates also revealed that Colbert had the biggest ratings of the night. Fast national ratings indicate The Late Show with Stephen Colbert did a 4.4 rating. That's way better than Kimmel, who only managed a 1.2 rating over at ABC last night. It's also better than the extremely popular Jimmy Fallon, who pulled a 2.1 rating on Tuesday. But will these ratings mean something longterm?
Obviously, the expectations for premiere ratings are a lot higher than the average show produced by a network. The real test will be what numbers Stephen Colbert continues to pull in as he settles into his new gig. Right now, he's getting additional numbers out of curiosity. People who don't always watch late night still want to check the new host out. In addition, faithful fans of Jimmy Fallon and Jimmy Kimmel are likely cheating a little to see if Stephen Colbert brings something new to the table (other than a different first name).
Honestly, though, for a brand new late night host, I actually though all of the years on The Colbert Report have helped Stephen Colbert to come off as pretty polished during his first episode. Sure, a few of the segments ran a little long, and Colbert was a lot more in his element when interviewing Jeb Bush than he was with George Clooney, but when I think about early interviews from certain other hosts—here's looking at you Jimmy Fallon—Stephen Colbert's was free of cringe-worthy material and quite watchable. Since he's already got that going for him, he hopefully won't be fighting an uphill battle for viewers.
Anytime a new host jumps into the late night arena, people are interested to see if that host will be popular. Colbert brings with him a fairly young audience from Comedy Central, and if that audience continues to tune in, he should be in pretty decent shape. Still, it's hard to compete with segments people are already familiar with, including "Box of Lies" or "Liewitness News." We'll let you know how Colbert is doing as the weeks roll on. In the meantime, you can check out the host for yourself when The Late Show with Stephen Colbert airs on weeknights at 11:35 p.m. ET, only on CBS (opens in new tab).
Your Daily Blend of Entertainment News
Reality TV fan with a pinch of Disney fairy dust thrown in. Theme park junkie. If you've created a rom-com I've probably watched it.