Lizzy Caplan Joins Masters Of Sex, Michael Sheen Replaces Bettany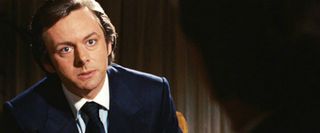 Showtime's original series slate is certainly shaping up nicely. The network has recently made an effort to land film stars to head their most recent series - including William H. Macy in Shameless, Claire Danes in Homeland and Don Cheadle in House of Lies - and, with these speedy renewals, it's a strategy that seems to be working out quite well. Of course, that doesn't mean there haven't been a few casting bumps along the way, most notably with British star Paul Bettany walking away from the upcoming Masters of Sex pilot. However, Showtime has done a tremendous job picking up the pieces by filling the empty slot with Michael Sheen as well as finally locking Lizzy Caplan in to co-star.
Deadline reports that Sheen, best known for his superb and overlooked work as Prime Minister Tony Blair in The Queen or as TV personality David Frost in Frost/Nixon, will be stepping in for Bettany as William Masters. Sheen once again finds himself playing a real figure as Masters of Sex is based on the true story of 'human sexuality pioneers' Masters and Virginia Johnson and is adapted from Thomas Maier's book "Masters of Sex: The Life And Times Of William Masters And Virginia Johnson, The Couple Who Taught America How To Love." As the longest book title ever suggests, the pilot will focus on Sheen's Masters and his partner Virginia Johnson, a co-leading role for which Lizzy Caplan has just been confirmed.
The series is about the two sexuality researchers and follows their lives, romance and influence on both pop culture and the just blossoming sexual revolution. Hired to pen the adaptation is TV veteran Michelle Ashford (The Pacific) with Academy Award winner John Madden (Shakespeare in Love) attached to direct the pilot. Yes, this pilot is shaping up rather nicely and looks like a promising potential pickup. Sheen and Caplan are two wonderful actors who haven't quite gotten the recognition they deserve but hopefully their addition to this prestige project might help change that.
Apart from the roles mentioned above, Sheen was nominated for an Emmy for his work on HBO's The Special Relationship, was unforgettable as Wesley Snipes on 30 Rock and is also part of the glorious ensemble in Woody Allen's Midnight in Paris. Caplan was lovely and hilarious on Starz Party Down as well as a standout in her small arcs on True Blood and (so far) The New Girl. Overall, really exciting hires for an enticing new pilot slated to begin shooting in New York in March.
Your Daily Blend of Entertainment News
Thank you for signing up to CinemaBlend. You will receive a verification email shortly.
There was a problem. Please refresh the page and try again.