Louie Watch: Season 3, Episode 11 - The Late Show Part 2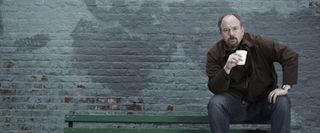 Louie spends another week moving the pieces for what is sure to be a pretty great episode to close out the show's longest arc.
The show was more successful comedicly and narratively than Part 1, a couple weeks back, as we dive right into the training process for being a late night host. Leading Louie on this journey is a Mr. Doll (pronounced Doll) and he is played wonderfully annoyed by director David Lynch. Doll is a quiet sage, and he doesn't seem terribly impressed by Louie's hosting chops and neither should the viewer; Louie is terrible. Doll only gets a couple sessions in with Louie before sending him to a boxing gym where Louie gets beat up by a young stud; rough week for Louie. I don't know what this says about Louie's chances, but I can't imagine Doll is going to give him his stamp of approval at this point.
Last week's episode also made it very clear that Louie wasn't supposed to tell anyone about Letterman's retirement, but word is slowly leaking out; mostly thanks to Louie. First he tells his ex in a brilliant scene where she calls Louie out on his shit. He wants her to tell him he can't do it for the kids and she isn't biting. Susan Kelechi Watson is hilariously hard on Louie and while she doesn't tell him what he wants to hear, she tells him what is best for him. Watson continues to shine when she pops up on the show; I just hope we get more of her.
Jay Leno pops up again in another great appearance as he rings up Louie just to fuck with him. Leno has never been better than his two appearances on Louie and he almost makes you forget how bad his show can be. I feel like Leno is sort of honest in his phone call with Louie. I am sure Leno does regret the grind he got himself into, but Chris Rock is just as right that Leno lives for it at the same time.
Speaking of Rock, C.K. is setting him up as a villain next week as he takes the news Louie leaks about Letterman and postures himself as a possible candidate for the show as well. This is setting up potential appearances from Rock, Letterman and Seinfeld next week and I can't wait to see how it plays out.
Louie was certainly more entertaining this week, but for a three part episode not a lot has happened in the first two episodes. Not that I am complaining, nothing seems wasted; I just hope that C.K. is able to pull it all together into something classic next week in the episodes finale. Until then.
Notes:
-"Forget the kids."
-Straight up truth for Louie.
-"It's Doll."
-That was quite the desk drawer.
-"Comedy is about timing son."
-What's wrong with Doll's ear?
-I love Louie's agent.
-Poor lady. Jane is such a Good Samaritan.
-Again, I somehow like Leno.
-"Don't fuck it up."
-Uh oh, Chris Rock is going to make a run.
-I like these interpretive cutaways of Doll.
-"Look..." "I'd rather not."
Your Daily Blend of Entertainment News