Lucifer Casts Chicago Fire's Lauren German In A Main Role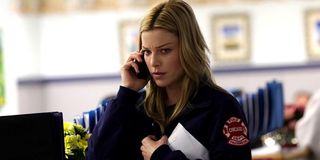 Superhero programming is starting to saturate the TV market. Coming up is the comic book-based drama Lucifer, which Fox picked up to pilot this winter, following an original deal that came together in the fall. Now, casting is underway, and Chicago Fire alum Lauren German has signed on to the upcoming project as a friend of the devil, literally.
Lucifer is set to take place in Los Angeles, and will follow Lucifer, who retires from running hell to move to the US city and help the LAPD to fight crime. This is where German's new character will come in. The actress has signed on to play Chloe Dancer, a homicide detective. Deadline reports that Ms. Dancer will be a kind and true detective, who will fascinate Lucifer with her virtues. Prior to Chloe's appearance, Lucifer believes humans generally have negative value.
Honestly, I'm still finding it weird that a Sandman character who later had a spinoff based around a bar (called LUX) could become a hero of a police procedural. I'm not sure why the guy who used to run Hell would have any interest in punishing criminals and shooting the shit with police officers, but I guess Len Wiseman will address this when he directs the pilot for Lucifer.
Regardless of the odd direction the pilot seems to be going in, I'm pretty happy to see Lauren German sign on with another TV series right away. The Chicago Fire actress got a raw deal earlier this season when her popular character, Leslie Shay, was killed off in an explosion while working as a paramedic at a fire site. Her exit was kept under wraps, and her death on the show was a huge surprise for fans, so it'll be nice to see her on our TV's again, should Lucifer get the greenlight to air.
German isn't the first person to be cast in the Lucifer pilot. Just a couple of weeks ago, Tom Ellis was signed on as the titular character. The actor is mostly known for his work on the Miranda Hart-oriented series Miranda and the USA drama Rush. Ellis doesn't have that signature David Bowie look that the comic character has, but since not a lot about this series seems super similar to the comics, it doesn't shock me that Fox would choose the right actor over the right looks. Lina Esco will play Maze in the project, as well.
There are a lot of pilots in contention this season, but the pro for another police-based, comic-oriented series is that it could be a good fit to air with Fox's other series of the same ilk, Gotham. We'll let you know as soon as Fox makes a decision regarding whether or not to move forward with Lucifer.
Reality TV fan with a pinch of Disney fairy dust thrown in. Theme park junkie. If you've created a rom-com I've probably watched it.
Your Daily Blend of Entertainment News
Thank you for signing up to CinemaBlend. You will receive a verification email shortly.
There was a problem. Please refresh the page and try again.