MacGyver's Richard Dean Anderson To Guest On Don't Trust The B---- In Apartment 23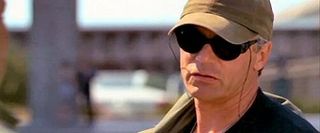 Don't Trust the B---- in Apartment 23 will be getting a visit from a major television star of the 80s. Richard Dean Anderson, better known to the television-viewing public as MacGyver, will be making a guest appearance as himself on the ABC comedy's current second season.
Anderson will pop by on an upcoming episode, joining the ranks of several actors who have played themselves on episodes of the show and done so with a healthy sense of humor about their own image. While there's no word in the THR report on exactly what his appearance will be about, it seems likely that he'll be poking a little fun at himself, much as other guest stars like Busy Phillips and Frankie Muniz have done in the past. The series stars Kristen Rytter and Dreama Walker as well as Dawson's Creek alum James Van der Beek in a role that is a somewhat altered version of himself.
Although Richard Dean Anderson will always be best remembered as the guy who could get out of any situation given a bobby pin and a piece of chewing gum on MacGyver, his TV career continued well past the end of that series. Anderson starred in the Stargate Universe series and has also done a number of guest starring appearances on various shows including Raising Hope. He recently reprised his role as MacGyver for a series of Mercedes-Benz promotional web episodes.
Don't Trust the B---- in Apt 23 airs on Tuesdays at 9:30 p.m. ET on ABC. No word yet on when Anderson will make his appearance.
Your Daily Blend of Entertainment News