MacGyver Gets A Comeback In Mercedes-Benz Web Episodes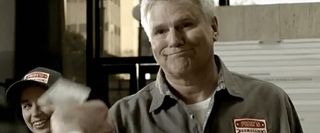 If you feel your life has been lacking ingenious escape plans involving random household objects, there's good news. MacGyver is back – briefly anyway. Richard Dean Anderson will once again step into the role of the most creative man with a paper clip in television history for three web episodes of the show that made him a star. The episodes will be made in connection with his new role as Mercedes-Benz spokesperson.
While I can't say I ever saw MacGyver as much of a Benz kind of man, Anderson's new MacGyver episodes are being launched as part of the promotions for the new Mercedes Citan, an odd-looking four-door vehicle that is apparently up to any challenge, just like our man MacGyver himself. Or so the promo goes on the Mercedes –Benz website. The car appears to be an attempt by Mercedes-Benz to capture that portion of the market that wishes it could drive a luxury vehicle but need something more economical – perhaps a smart move in the current economy.
Opinions on the vehicle itself aside, fans of the classic 80's series in which Anderson handled a variety of dangerous situations on a weekly basis using his ingenuity and resourcefulness are getting their hero back for a few episodes. The trailer on the Mercedes website offer s a glimpse into the new episodes with plenty of flashy scenes of MacGyver driving his lovely new Citan; it's clearly as much a commercial for the car as anything. Then again, product placement in movies and television shows these days is hardly subtler.
The new episodes of MacGyver hit the web on September 18th.
Your Daily Blend of Entertainment News