Man Recognizes Location On Local News, Sprints To Be In The Background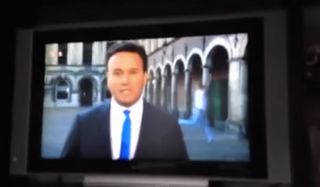 In what, quite frankly, may be the best news blooper ever, a group of individuals were watching the local news in an apartment complex, when one of the group recognized that the street correspondent was filming in a nearby location. You can probably guess what happened, but we'll just tell you: one of the young men stood up and sprinted out the door, making it into the background of the newscast, just as the reporter was finishing up. Give the glorious stunt a watch, below.
I know we live in a culture of instant gratification, but you kind of half to wait for the long game, here. The video is more than a minute and a half long, and that wait is interminable. There's a bit of a shock, too, around the 42-second mark, when he newscast cuts back to the studio and the poor guy's effort seems to be lost. Luckily, that's not the end of the segment, and the news cuts back to the correspondent who keeps talking for long enough that the group of friends get to see their pal pop up on the screen. Valiant effort, dude, valiant effort.
To me, this is the perfect way to get on the news. There are some who shout swear words or get all up in the reporter's face. That's really frustrating for the viewer, but running behind in the background or making a silly face and moving on is more of an inside joke than anything else. "Hey, remember that time I sprinted from my apartment and ran by the local news?" Yes, yes we do. Although some of these efforts end up better for the person attempting to jump into the newscast than others. Remember the poor guy who was trying to impress his friends by jumping a fence located behind a newscaster? He tripped and fell, and we're still talking about it two months later.
Plus, the local news is often a lot about having fun. I know it's supposed to be serious business. Sometimes it even is, but it can often be low pressure, goofy and way less polished than anything that goes out nationally. It's really not a big surprise that moments like this happen way more often during local feeds than on CNN or national news broadcasts.
Also, a big shoutout needs to go to this guy's friends who filmed the whole thing and then cheered like beasts when he showed up onscreen. Riding the highs and lows along with them in the clip is eighty percent the reason why it's so enjoyable to watch. You want to see them get their euphoric moment. My only wish is that there was a part two to this video in which we got to see this guy arrive back at his apartment and sit around talking about how awesome he is for the next hour. They may have all engineered this on-the-fly plan during the news cast, but there was only one guy who stood up and sprinted for more than a minute to get into the newscast.
There are plenty of bloopers and stunts like these out in the universe. From smoking pot live on TV, to punching bears and making us laugh with the wrong clip during news segments, there's plenty of good local stuff like this to get us excited each year. And don't forget to catch the funniest news bloopers of 2014, here.
Amazing Race & Top Chef superfan with a pinch of Disney fairy dust thrown in. If you've created a rom-com I've probably watched it.