Watch Fox News' Megyn Kelly Drop An F-Bomb Live On Air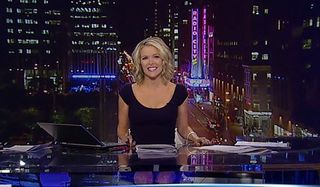 As an on-air TV personality for Fox News, Megyn Kelly is rarely anything but professional. She's so good, she's even managed to land her own show, The Kelly File, on the network. However, on Monday night, she blundered while introducing a prominent politician, accidentally dropping an F-bomb. Check it out.
During Monday's episode of The Kelly File, former Governor of Arkansas and 2008 Republican caucus hopeful Mike Huckabee was signed on to appear on Megyn Kelly's show. Before he even manages to utter a sentence, Kelly gives him a brief introduction, attempting to explain that he is the former governor and host of the talk show Huckabee. Instead, she calls the talk program "Fuckabee." I'm not sure if that was just a terrible mistake or if that's secretly how she refers to the politician in her head, but either way it's pretty funny. Here's the full quote.
To her credit, she remains pretty calm and gains her composure quickly, fixing her mistake. Mike Huckabee is also pretty funny to watch in the short video, as he gets a bemused smile on his face when she makes her big flub. Later in the show, Megyn Kelly self-beeps out a curse word when reading a quote, and jokingly refers back to her "worse" flub from earlier in the program. She also notes she doesn't even know why she's bothering to cut out the curse, since she already dropped other curse words during the program.
Megyn Kelly is a huge name on Fox News at this point. She's built up a lot of equity and is unlikely to be adversely affected by the flub over the long-term, although the news has blown up on social media this morning. On the bright side, Kelly has stayed away from addressing the big oops mistake on social media and in a couple of days, it should all be forgotten, by everyone who is not Mike Fuckabee. Well, you knew what I meant.
Unfortunately, not everyone gets the opportunity to come back from an epic F-bomb. A local news anchor in North Dakota was fired a couple of years ago for accidentally dropping profanity while on the air—and he certainly wasn't messing up a prominent politician's name. While that seems like a particularly harsh punishment, it just goes to show you that news anchors are in the public eye all the time and really have to watch out for mistakes like these, even if they seem funny to most of the viewers who happen to catch the segment. Here's to hoping that Megyn Kelly's next few telecasts of The Kelly File happen to be as flawless as her latest hairdo.
Your Daily Blend of Entertainment News
Reality TV fan with a pinch of Disney fairy dust thrown in. Theme park junkie. If you've created a rom-com I've probably watched it.