Watch The Funniest News Bloopers From 2014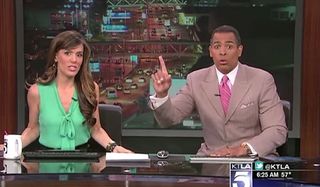 Sometimes the best moments on TV happen unexpectedly. That's certainly the case with this 2014 "Best News Bloopers" video, which is basically a giant supercut of a variety of reporters as they deal with earthquake encounters, slips of the tongue mistakes, falls and other on-air mishaps. You can check out the full video, below.
Here at CinemaBlend, we are a big fan of live bloopers, and this supercut features some of our favorites from 2014, including the Alaskan news anchor who quit live on the air, Erykah Badu's interruption of a live news cast, Megyn Kelly's famous F-bomb slip over at Fox News, and Samuel L. Jackson's on air rant about how he isn't Laurence Fishburne. But even if you've already caught those epic 2014 moments, there's still plenty of new—and weird—stuff to catch in this 15-minute supercut.
Want to watch a couple of news anchors duck under a table when an earthquake occurs live on the air? This video has you covered.
Want to see former Downton Abbey actor Dan Stevens giggle uncontrollably during an interview about his movie, The Guest? This video definitely has you covered.
There are celebrities saying uncouth things live on the air and random people on the street obnoxiously jumping into the camera frame, sometimes in costume. We also get to see some dudes tear down a news desk during a fight and plenty of on-air flubs, such as when a news anchorwoman refers to the NCAA as the NAACP. Toward the very end, the audio goes out during a local broadcast, and the two news anchors write witty phrases on cue cards to keep the audience entertained. It's a good mix of different types of funny accidents and flubs on local and national TV stations, as well as some non-American broadcasts, and it definitely makes you think about how hard it is to actually put together a live news broadcast.
If fifteen minutes of news blooper fun isn't enough for you, the enterprising YouTube user also has a second video of 2014 bloopers that are worth checking out.
There's a lot of great stuff that 2014 gave us, and this news bloopers supercut ranks up there in terms of amusement.
Amazing Race & Top Chef superfan with a pinch of Disney fairy dust thrown in. If you've created a rom-com I've probably watched it.