Mark Cuban Was Furious During Shark Tank Salary Negotiations, According To Leaked Emails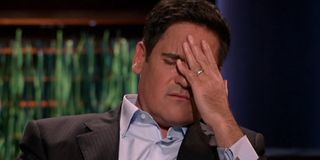 The recent Sony email leaks have had ramifications for a slew of major celebrities and the behind-the-scenes people that make the studio's motion pictures and TV projects happen. The latest person to jump into the spotlight thanks to the leaked emails is billionaire entrepreneur and Mavericks owner Mark Cuban, who had some pissy things to say to Sony regarding his salary for Shark Tank, after he was offered a figure he didn't feel was worthy of his talents.
Cuban has been a part of Mark Burnett's Shark Tank since the show began airing in 2011, first appearing in a few episodes and later as a regular panelist. The leaked emails note that Cuban was unhappy with his Shark Tank salary. For Season 5, Sony stated Cuban would receive $30,000 per episode, with his salary set to increase to $31,200 for this year's Season 6 and $32,488 for Season 7 if the show continues to air on ABC after the 2014-2015 season. He wasn't happy with those figures. In fact, he got so worked up, he told the studio to start cutting him out of the promotional materials.
That seems like a lot of money per episode, but it's certainly not as high as people involved with reality programs can go. The Bachelor host Chris Harrison makes $50,000 an hour. Still, Cuban's salary for each season is pretty high, considering Shark Tank produces more episodes than the average scripted program. Last year, the show filmed 29 episodes, which means Cuban would have received $870,000 at 30K per episode (if that is, indeed, the final deal they signed). Based on the emails, he probably wound up getting at least a little bit more.
It's hard to argue with upwards of a million dollars handed out to the lead entrepreneurs on Shark Tank, but according to Business Insider, Cuban is actually more upset at how the studio is treating him. Another email between Cuban and his company's general counsel Robert Hart mentions that Sony wanted to restrict how much Cuban was able to sell merchandise and generate publicity off Shark Tank. They wanted to claim use of his catch phrases and gestures, something his lawyer was none too pleased about.
Seeing as how he's still on the show, clearly Sony and Mark Cuban were able to work something out. Then again, that's not a huge surprise considering Shark Tank has turned into a cash cow and perhaps more importantly, the format allows the Sharks to film a ton of episodes in one stretch.
Amazing Race & Top Chef superfan with a pinch of Disney fairy dust thrown in. If you've created a rom-com I've probably watched it.
Your Daily Blend of Entertainment News
Thank you for signing up to CinemaBlend. You will receive a verification email shortly.
There was a problem. Please refresh the page and try again.