Mark Hamill And More Guest Star On Dragons: Riders Of Berk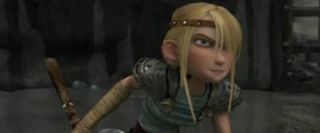 Dragons: Riders of Berk is a Cartoon Network spin-off of the hit animated feature How to Train Your Dragon from DreamWorks Animation. In addition to the returning star voice-cast that includes Jay Baruchel, America Ferrera, Christopher Mintz-Plasse, and T. J. Miller, the series will feature some amazing new additions and guest stars.
Announced at the SDCC 2012 panel, Mark Hamill (!), David Faustino, and Stephen Root will all be playing villains for Hiccup, Toothless, and the rest of the gang to face off against throughout the first season. Hamill, famous for being both Luke Skywalker and the voice of the Joker in countless animated Batmans, will play Alvin the Treacherous, who leads a group of exiled Berkians called the Outcasts in a quest to capture Berk for themselves, and perhaps some of the dragons too.
David Faustino, or Bud Bundy (Married With Children) as you might know him, will voice a character called Dagus the Deranged, who leads a different group of outsiders called the Berserkers. And, living up to the name, apparently his character will be pretty berserk and have an interesting antagonistic relationship with Hiccup that will be expanded in the second season. Stephen Root, Milton from Office Space, plays a local curmudgeon named Mildew who hates the fact that Berk has allowed dragons to co-exist with the humans.
The panel also announced two other characters and the voices behind them: legendary comedian Tim Conway and Biff from Back to the Future, aka Tom Wilson. The pair will bring even more comedy to the already staggeringly funny cast and are said to be a "Lenny and Squiggy" (Laverne and Shirley) type duo. Dragons: Riders of Berk is coming to The Cartoon Network this fall, but the panelists hinted at the possibility of a sneak peek at the premiere.
Your Daily Blend of Entertainment News