Martin Sheen To Guest On Anger Management As Charlie Sheen's Dad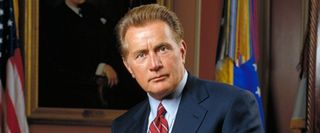 Charlie Sheen's return to series television is still several months away, but Sheen is already planning to celebrate with a family reunion. Sheen is set to star in FX's Anger Management, based on the 2003 movie starring Jack Nicholson and Adam Sandler. He'll be playing the role of Charlie Goodson, a therapist with unorthodox methods and issues of his own. One of those issues is his relationship with his father, to be played, with a touch of real-life veracity, by Sheen's actual father, Martin Sheen.
The former Two and a Half Men star revealed the casting plans to Access Hollywood, as well as hints at how Martin's role will be involved. "As the show's developed, we're discovering who my family is as I discuss them," Charlie said. "We're going to find out this guy does have major issues with his pop and when that character does finally show up, it will be my dad." There's no firm date as to when the elder Sheen might make his first appearance, but Anger Management is set to premiere on FX on June 28th.
Sheen also revealed a few more details about his role in the series. Goodson is a former ballplayer who struggles with – appropriately enough – anger issues. After his sports career ended, he became a therapist. "But he's a guy that's [has a] bit of a percolation underneath the surface," added Sheen. Sounds like the sort of role Charlie Sheen was born to play…
Your Daily Blend of Entertainment News
Your Daily Blend of Entertainment News
Thank you for signing up to CinemaBlend. You will receive a verification email shortly.
There was a problem. Please refresh the page and try again.