This Means War's Simon Kinberg And Parenthood's Jason Katims Create Spy Project Anonymous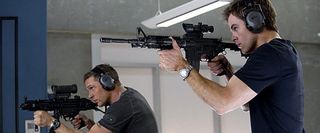 Parenthood creator Jason Katims recently signed on in an overall deal with Universal TV and has been churning out new ideas ever since. His newest project, developed with writer Simon Kinberg, will follow a father-son relationship in an unlikely forum: that of the spy world. Fox seems pretty excited about the project, and has even given it a put-pilot commitment.
Called Anonymous, the upcoming show is being described by Deadline as a drama and comedy that will, unsurprisingly, be focused on its characters, but will feature some action, too. In the show, the CIA nabs a young hothead to train as the agency's newest spy. The kid is paired up with a veteran, whom he eventually bonds with and learns to trust.
Since Katims is more known to write shows about relationships, including Parenthood and Friday Night Lights, the action and spy nature of Anonymous is a little puzzling, until you look at Kinberg's credentials. He's written a lot of the type of movies that have employed both action and comedy, including This Means War, Sherlock Holmes, and X-Men: The Last Stand, among others. Katims will write the pilot, while both men will executive produce.
While the nature of the two men's ideas seem very different considering their past projects, the mash-up could prove to be a unique opportunity for television. Either that, or a total disaster, but we'll have to wait and see. If Anonymous doesn't pan out, at least Katims has another project going for him at Fox for the upcoming pilot season. His other project will follow a 30-something female lawyer with a twisted outlook. We'll keep you posted on whether the fates land either of these ideas on the network next year.
Your Daily Blend of Entertainment News
Thank you for signing up to CinemaBlend. You will receive a verification email shortly.
There was a problem. Please refresh the page and try again.